Hemp Tofu (soy-free) Hits The Market Nationwide in 2015
Industry: Food and Drink
Hemp Tofu: An allergen-free, high-protein, vegan solution goes national.
Norwalk, CT (PRUnderground) January 14th, 2015
For the first time since its 2014 launch, Tempt's line of all-natural hemp tofu will be available nationwide. The only commercial product of its kind in existence; hemp tofu gives vegans, vegetarians and those suffering from food allergies a simple high protein solution that is nutritionally beneficial and easily digestible. Hemp tofu packs 30 grams of vegan protein per package, and comes in four flavors: Original, Chimichurri, Mexican Chorizo and Sweet & Spicy Chili Lime.
As a brand that falls under the Healthy Brands Collective umbrella, Tempt products align with its parent company's overall mission of creating healthier foods for healthier lifestyles. Known for its line of flavored hemp milks, Tempt hemp tofu has revolutionized a vegan alternative to meat that is traditionally made of soy.
"This is an exciting year for us," said Healthy Brands Collective Chief Operating Officer Donna Ratner. "Hemp tofu is one of three new product lines we have brought to market over the past year."
In addition to creating the hemp tofu, Tempt launched the first coconut hemp milk last summer and will soon unveil a new line of allergen-free hemp products.
"Industrial hemp is a hot topic right now that is influencing farming, the foods we eat, and the products we buy," Ratner said. "We're proud to bring awareness to the nutritional benefits and value of this wonderful plant. Hemp is high in magnesium, iron, potassium, fiber, phytonutrients and natural antioxidants including vitamin E."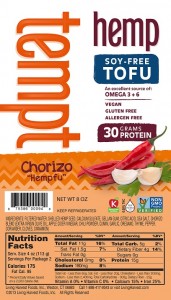 One of the most nutritious and sustainably grown plants in the world, hemp is a vegan, plant-based, non-GMO superfood that is free from common allergens, including soy, dairy and gluten. Containing a balanced ratio of Omega-3 and Omega-6 fatty acids, hemp also has all 10 essential amino acids, which are the building blocks of protein. There are hundreds of uses for hemp, as it is sustainably grown without the use of pesticides and herbicides. The plant has no drug value, and Tempt products contain 0.00% THC.
Similar to traditional tofu brands, Tempt hemp tofu can be baked or sautéed, and has a diverse ability for culinary recipes. This innovative line of hemp tofu conveniently cooks in 5 minutes, and is priced starting at $3.49 for an 8 oz. package. The brand is celebrating a landmark moment as retailers from coast to coast can now provide this allergen-free meat alternative for conscious consumers.
About Healthy Brands Collective
Healthy Brands Collective creates healthier foods for healthier lifestyles. Powered by a conscious team, their mission is to spread awareness on good nutrition – one body at a time. Always innovative, never boring, Healthy Brands Collective is a source for good food for healthier living.