Hypnosis For Weight Loss Has Hypnotherapist Doctor Busy In New York & Connecticut
Industry: Self Help
Dr Ellyn Gamberg is a hypnosis for weight loss hypnotherapist in New York and Connecticut. Yesterday on his show Dr. Oz put that idea in the minds of millions of Americans.
New York, NY (PRUnderground) February 9th, 2012
People all over Europe have been saying for years that Virtual Gastric Banding really works to lose weight, and to keep it off. Yesterday, Dr. Oz put that same idea in the minds of millions of Americans.  For most of us it is hard to wrap our brain around anything that we don't understand. So  let me explain how hypnosis can help virtually anyone lose weight.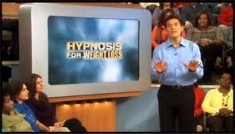 Virtual Gastric Banding involves an initial hypnosis session where the person will be guided into a deep relaxed state of hypnosis, and is taken through the simulated surgery.  The patient returns for a series of several regular follow up visits to provide additional emotional support and provide the opportunity for suggestions to be re-enforced and enhanced in order to provide additional effectiveness and continued weight loss.
Suggestion and visualization are two of several hypnotic techniques that can be used by a qualified Hypnotherapist to recreate the physical benefits of Gastric Banding without all the potential side effects. The person feels as though they have really been through the actual surgical procedure, and the reduction in weight is often quite profound.
The follow up sessions may also include hypnotic adjustments to the band in order to slow down or enhance the weight loss depending on the progress. As an individual continues to lose weight they begin to permanently adjust their thinking about food, and continue to adjust their belt buckle!
About Dr Ellyn Gamberg:
Dr. Gamberg is licensed to practice psychotherapy in New York and in Florida, and is a nationally certified Clinical Hypnotherapist. Throughout her twenty-five year career in behavioral healthcare Dr. Gamberg has has held various faculty positions at major educational institutions, been a consultant to community organizations, and private corporations .
She has published and presented research nationally on the subject of anxiety and adjustment disorder. Her current training and research has developed an expertise in the area of Medical and Pediatric Hypnosis with special interest areas in Weight Management, Stress, and Anxiety in both adults and children. She has offices in both New York City and Connecticut.
Dr. Gamberg received her Doctoral Degree from Nova Southeastern University, completed her Master's Degree at the University of South Florida and earned her Bachelor's degree at Temple University.