Icona Announces Release of Quality Handheld Vacuum Sealer and Container Ideal for Keeping Food Fresh
Industry: Food and Drink
Preserving food and keeping it tasting fresh for longer periods of time has become more simple thanks to Icona and their handheld vacuum sealer with special containers.
California, US (PRUnderground) November 15th, 2017
Being able to extend the life of refrigerated or frozen food can save a family a huge amount of money and time. Icona are answering the call with their new handheld vacuum sealer expertly designed for high performance. The easy to use device works in combination with special Icona containers to keep food fresh looking, tasting and free from spoilage for up to five times longer than what would otherwise be possible.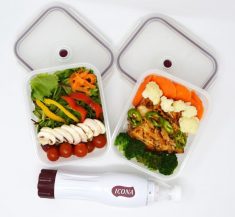 "We put a great deal of time into the research and development of our new vacuum sealer," commented a spokesperson from Icona. "After identifying some of the weaknesses of existing products and overcoming them, we are able to deliver a valuable kitchen tool and a remarkably attractive price point. It should be part of everyone's food prep arsenal."
According to the company, the Icona Handheld Vacuum Sealer and containers (that come in two convenient sizes, one 650ml and the other large size 1700ml) can be used with any number of different food products, including: meats, vegetables, fruits, snacks of all kinds and much more. By removing the oxidation process freshness, flavor and life are all extended in a very dramatic way. The device itself is simple and quick to use, sealing a container in seconds and also can be opened with just a twist.
Expect other innovative products from Icona to debut soon.
Early feedback for the handheld vacuum sealer have been completely positive.
Chris S., from Boston, recently said, "I eat six meals a day to help me meet my fitness goals. That means prepping food once a week. The Icona Vacuum Sealer helps make the last meal I eat in a batch taste as good as the first. An amazing product I highly recommend. Five stars."
For more information be sure to visit https://www.goicona.com.
About Icona
Icona are an exciting company leading the way with powerful money-saving kitchenware tools that benefit families, homeowners and food lovers.