Inkscreen Announces Integration with MobileIron AppConnect
Industry: Mobile Apps
Integration brings PhotoInk secure camera to MobileIron App Ecosystem
Austin, Texas (PRUnderground) October 26th, 2015
Inkscreen, an enterprise software company focused on delivering secure productivity applications by leveraging the power of mobile device cameras announced today that it is part of the MobileIron AppConnect ecosystem. Inkscreen has integrated its leading secure camera app, PhotoInk™, with MobileIron AppConnect to ensure customers can capture, annotate, store, and share business-related photos while providing IT the policy controls it needs to secure and manage the sensitive data.
MobileIron, the leader in enterprise mobility management (EMM), provides its AppConnect technology to third party mobile app developers. With MobileIron AppConnect apps, companies can provide the third-party application experiences their employees want, with apps that have been enabled with auto-configuration, data containerization, and secure tunneling to protect corporate data.
PhotoInk™ for MobileIron is a powerful mobile application for regulated organizations with frequent use cases requiring the capture of sensitive photos. For instance, PhotoInk allows a healthcare worker to document a patient procedure, police officer to collect crime scene evidence, or insurance adjuster document property damage for a claim. Photos are stored in an encrypted container separate from personal galleries, and IT managers have the ability to restrict sharing options, erase the entire folder, and control other granular policies without impacting personal data. PhotoInk meets HIPAA as well as FBI and state digital evidence regulatory frameworks.
"MobileIron has an incredible reputation for providing quality service and secure mobile solutions," explains Inkscreen founder Josh Bohls. "We are proud to announce this partnership and product integration and are thrilled to be able to offer a secure camera solution to their customers, many of which have already requested trials prior to the official product launch."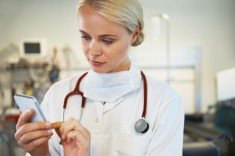 "PhotoInk fills an important gap in our partner ecosystem", states John Spencer, MobileIron's Vice President of Ecosystem. "Our customers frequently request the ability to securely capture and manage sensitive photos. Inkscreen truly understands the challenge and has a solution that is flexible enough to fit multiple industry requirements."
To learn more about this partnership go to www.inkscreen.com/mobileiron or call (512) 888-9090.
About MobileIron
MobileIron provides the foundation for companies around the world to transform into Mobile First organizations. For more information, please visit www.mobileiron.com.
Contact:
Sara Day
MobileIron
sara@mobileiron.com
(650) 336-3123
Josh Bohls
Inkscreen
(512) 888-9090
About Inkscreen
Inkscreen is an enterprise mobility software company focused on secure content capture. Founded in 2012 in Austin, Texas, Inkscreen has worked with government and enterprise customers all over the world to help solve the challenge of capturing and managing sensitive business-related media and documents on mobile.
Inkscreen's flagship solution, CAPTOR, formerly known as PhotoInk, is a mobile software system enabling secure content capture and management. Employees take business-related photos and videos, scan paper documents to PDF, apply annotations, and more. IT maintains complete control over captured content, which is stored in an encrypted container while on the device. Perfect for BYOD or COPE programs but engineered to benefit any organization looking for security and control over content captured on mobile devices. Learn more at www.inkscreen.com and find us on Twitter at https://www.twitter.com/inkscreen.