InvigorHealth Solutions, LLC Will Provide A Holistic, Personal Approach To Corporate Wellness
Industry: Health & Fitness
InvigorHealth Solutions, LLC will launch its employee wellness service, an online platform from Asheville, NC on July 8. This collaboration of health, wellness, and business experts will bring a wealth of knowledge, incorporating the most recent science based evidence. InvigorHealth Solutions' services will promote physical, social, and emotional well-being to help employees and organizations reach their full potential.
Asheville, NC (PRUnderground) July 9th, 2019
Companies of all sizes across the country will have the opportunity to contract InvigorHealth Solutions to improve the lives of their employees and the health of their organization. The Leadership Team consists of an MBA, a Medical Doctor, a Physical Therapist, a Fitness Professional, and a University Wellness Professor who have joined forces with a passion for business efficiencies, community health, lifestyle coaching, and giving everyone the resources and tools to gain a sense of overall wellness.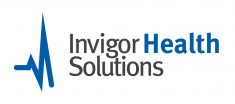 The founding Members have been collaborating for several years and are thrilled to be launching this dynamic and comprehensive endeavor. "InvigorHealth Solutions was created to fulfill a simple, yet powerful business to business paradigm: to help ventures of all sizes maximize their potential with healthier and happier employees," explained Co-Managing Founder, Mike Elder.
"InvigorHealth Solutions' emphasis is to enhance employee wellness. We include all elements of physical and emotional well-being. Our goal is to achieve a life-work balance to promote efficiency and productivity," added Co-Managing Founder AnnMaria Elder, MD.
At www.invigorhs.com you will find more details regarding the initial and future services. Meet the Leadership Team and the Advisory Body that combine to create a highly skilled group of wellness professionals with a vast array of core competencies, experience, and knowledge that is the backbone for this venture. The group includes, nutritionists, medical doctors, mental health professionals, bodywork practitioners, physical and occupational therapists, fitness professionals, wellness educators, and spiritual leaders.
Contact:
Jeff Carnivale, Co-Founder
jcarnivale@invigorhs.com
Mike Elder, Co-Managing Founder
melder@invigorhs.com
About InvigorHealth Solutions, LLC.
InvigorHealth Solutions, LLC was created during 2019 to be the preeminent business-to-business employee wellness consulting firm. We promote physical, social, and emotional well-being to help employees and organizations reach their full potential. Our employee wellness services are centered around physical and emotional aspects of fitness, nutrition, and health. We are focused on one simple mission: to help our clients gain operational efficiencies through healthier, happier, and more productive employees.