Keeping Gutters Clean Could Prevent Damage and Reduce Homeowners Insurance Premiums According to the Experts at GutterSupply.com
Industry: Home Care
The gutter experts at GutterSupply.com recommend keeping your gutters clean year round to prevent damage and perhaps even reduce homeowner's insurance premiums.
Lake Bluff, IL (PRUnderground) May 1st, 2019
Homeowner's insurance is costly for many people across the country, but there are several things you can do to keep your premiums affordable. The experts at GutterSupply.com, a leading provider of gutter materials and accessories, says that keeping your gutters clean and in good repair throughout the year is one way to do just that.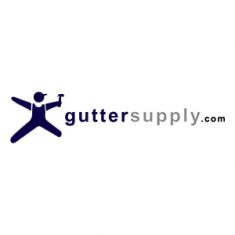 Gutters serve one main purpose: they funnel rain and meltwater off your roof and away from your home's foundation. When gutters are filled with debris or otherwise in disrepair, they can cause serious issues and devastating damage to your home. For example, failing to resolve ice dams could lead to roof leaks that later cause rot and even dangerous mold. Gutters that leak, or gutters that fail to move water far enough away from the foundation of your home, can cause the ground to become soft enough to allow your home's very foundation to shift. This can cause cracks and severe damage that costs tens of thousands of dollars to repair.
Though homeowner's insurance does cover many of the costs associated with these repairs, many homeowners can attest that filing such claims causes their premiums to skyrocket. The opposite is also true in many situations; homeowners who do not file claims for an extended period may receive discounts on their premiums. For these reasons, keeping your gutters clean and well-maintained may help you avoid unnecessary insurance claims and ultimately save you money. Even insurance companies are taking to the media to help homeowners save money; PEMCO, a Seattle-based insurer, told Q13 Fox that gutter maintenance is one of several important spring maintenance tasks.
GutterSupply.com recommends cleaning gutters at least once each year and more often if your home is surrounded by trees. This ensures the proper flow of water through the system. They also recommend inspecting your gutters annually by walking around your home and looking for signs of rust, corrosion, cracks, sagging, and anything else out of the ordinary. Homeowners who do not feel comfortable cleaning their own gutters or performing their own inspections can call on local contractors for help.
To learn more about gutter maintenance and cleaning, or to purchase supplies to help keep your gutters in good repair, feel free to visit GutterSupply.com's website, give them a call at 1-888-909-RAIN, or send an email to info@guttersupply.com. They can help you choose the best products for your needs.
About the Company: GutterSupply.com is headquartered in Lake Bluff, Illinois and provides an extensive selection of gutter materials, accessories, and machines both locally and nationally. GutterSupply.com also sells a variety of rain chains, gutter guards, and more designed to help homeowners keep their homes in good repair without sacrificing quality or curb appeal. They also offer competitive pricing and bulk discounts for contractors. For more information please visit https://www.guttersupply.com.
About Gutter Supply