Leader in Mobile Foods Marketing Offers 10 Facebook And Twitter Marketing Tips
Industry: Social Media
Stitches 'n Dishes, the first fully dedicated marketing, advertising and development resource available to mobile food vendors in California, released its top 10 Social Media Marketing tips for mobile food entrepreneurs.
San Francisco, CA (PRUnderground) November 10th, 2011
The Internet has overtaken television as the largest advertising market in the world. Television commercials often include references to product websites or Facebook and Twitter pages. Print ads include references to social networks, as well as QR Codes which direct viewers to mobile websites on their smartphones. Social Media Marketing – while yet an infant in the general world of marketing – has made its mark on the world, and it's here to stay.
Social Media Marketing allows for the exchange of user-generated content; in essence it allows businesses to become more personal, and to interact with their customers as people rather than companies.
Rodney Washington, Editor in Chief at Stitches 'n Dishes, and Social Media Marketing expert, recently discussed ten simple tips to assist mobile food entrepreneurs in launching their Social Media Marketing strategies on Facebook and Twitter, including identifying customers, growing a fan base, and constructing Facebook and Twitter updates that include a call to action.
"Today if you want to be taken seriously marketing your business online you can't do it without some type of involvement with social media. As a matter of fact, many small businesses are using Facebook and Twitter as an alternative to setting up a website or blog," said Washington.
Of course these tools will be far more effective if implemented in unison with a private blog or website, but in the absence of a blog website, mobile food entrepreneurs are latching on to some simple techniques to boost business and advertise their products on social network sites.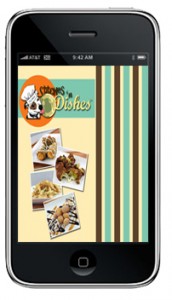 "In our series of articles, we're drawing a road map in Social Media Marketing specifically catered (no pun intended) to the mobile food industry. In this article, Rodney's spelled out some very simple steps a mobile food operator can take to catapult his popularity in social networks," said Christopher Ford, Co-Founder at Stitches 'n Dishes.
The article, which can be read on the Stitches 'n Dishes blog website, discusses how to write & publish Tweets & Facebook wall posts that create interest, encourage text message marketing, locate customers, use photos in posts, and six other tips, including his "bonus tip," and a "how-to" video tutorial.
The ten tips can be implemented immediately, and will allow the mobile food operator the opportunity to leverage social media to grow a mobile food business.
The full article and video tutorial is published on the Stitches 'n Dishes blog site, where readers are not only tantalized by high-quality food photography and reviews, but they're also rewarded with prizes and discounts. Ford recently announced that Stitches 'n Dishes will give away an Apple iPad 2 WiFi tablet computer in a free drawing on December 31, 2011. Entry details can be found on the blog website.
About Stitches 'n Dishes:
Stitches 'n Dishes, the creation of Christopher Ford and Andrew Nicora, and inspired by "Stitch", an American Staff. Terrier mix / Bichon Frise, provides marketing, advertising and PR services to the mobile foods industry and it provides consumers with a single source for original articles, reviews, food photography, California fairs and events, discounts, contests and giveaways.
Stitches 'n Dishes is California's first provider of a platform that stitches a link between food lovers, entertainment venues and mobile food operators, and the first fully dedicated marketing, advertising and development resource available to food vendors in California.
Contact
Christopher Ford, Co-Founder
Stitches 'n Dishes
chris@stitchesndishes.com
916-612-9954
Rodney Washington
Stitches 'n Dishes
rodney@stitchesndishes.com
858-413-7526