Leading Gutter Parts Provider GutterSupply.com Offers the Best in Gutter Wedges
Industry: Home Care
GutterSupply.com, one of the country's leading providers of things like gutters, parts, machines, and accessories, offers some of the best gutter wedges
Lake Bluff, Illinois (PRUnderground) January 12th, 2017
People have come to GutterSupply.com with all their gutter and gutter accessory needs for years. Aside from outstanding prices and a huge selection, Gutter Supply also offers some of the highest-quality products in the entire industry. This is even true of gutter wedges, which play an integral role in the installation and maintenance of gutters.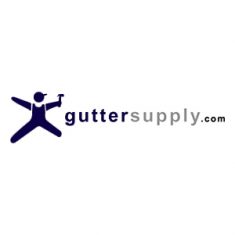 A gutter wedge is a device that is shaped like a triangle and fits up against the eaves of a home. Its purpose is to ensure that your gutters are properly hung, and it is a necessary accessory for homes with slanted eaves. One angle is 90 degrees, but the other angles depend on the length of the wedge's sides. To determine wedge angles, it's important to first determine the angle of the home's eaves. It's recommended that wedges be installed on the same spacing as hidden hangers, or every 24 to 32 inches.
GutterSupply.com provides a variety of gutter wedges in different types, styles, and materials. You can find half-round gutter wedges, which eliminate the need for roof straps. These are designed to keep the front end of the gutter from tipping forward. You can also find the universal T-wedge, which supports all five- and six-inch gutters and makes installation a snap. There are also K-style wedges, which have 20-degree angles and are considered the industry standard. Finally, you can also find a half-round T-wedge, which combines the best properties of the universal T-wedge and the half-round wedge.
GutterSupply works hard to ensure that their prices are competitive, and contractors who buy in bulk can save even more on wedges, end caps, hangers, outlets, and much, much more.
About Gutter Supply