Leading Hypnotist Dr. Kazi Anam Offers 10 Free Sessions to Help People with New Years' Resolutions
Industry: Self Help
Appointments now available in-person or remotely via phone, Skype
New York (PRUnderground) December 22nd, 2015
Dr. Kazi Anam, a leading hypnotist, is offering 10 free initial sessions to help individuals driven to succeed with their New Years' resolutions.
The offer will be available to the first 10 people who contact Dr. Anam and set up an appointment, either at his midtown Manhattan office or via phone or Skype.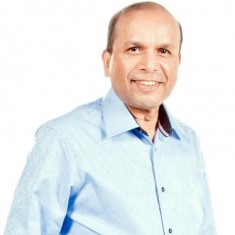 "It is very well known that while many people get very excited about their goals for the New Year at the start, very few are able to stick with them for more than just a few weeks—if they even make it that far," said Dr. Anam. "Research clearly shows that hypnosis is the easiest and most effective way to make any sustained change in habit. I am looking forward to helping individuals with their resolutions, whether they are to lose weight, stop smoking, manage stress, eliminate addictions or more."
When individuals are hampered with obesity and anxiety, or bad habits like smoking or excessive drinking, they have a much higher likelihood of developing serious and chronic health conditions like cancer, heart disease, type-2 diabetes, high blood pressure and various other issues. In fact, research indicates that stress is the root cause of many of these conditions, and Dr. Anam helps people reduce anxiety through the services he provides.
In addition to these issues, hypnosis can be very effective at helping people deal with stage fright, the fear of public speaking, relationship problems and procrastination. And many individuals have found that hypnosis has given them the tools and confidence necessary to find greater success in life in general, especially if they would like to start a business or reach new heights in their careers.
Dr. Anam is the CEO of Hypnosis Leader, Inc. and offers world-class hypnosis sessions at his midtown Manhattan office, along with remote sessions for national and international clients. He is a leading certified hypnotist, best-selling author, licensed pharmacist and doctor of natural medicine, and over the years has appeared on ABC, CBS, NBC and FOX network affiliates.
To learn more about Dr. Anam and the services he offers, and to set up a consultation, please call 800-524-6185 or visit https://www.hypnosisleader.com.
About Hypnosis Leader, Inc.
Dr. Kazi Anam is a leading certified consulting hypnotist, best selling author, pharmacist, health coach, researcher, executive life coach and motivational speaker. He has been helping clients achieve their goals for more than 25 years.