Lesbian Couple Set Phasers to Stun in Surprise Star Trek Wedding At OASIS Nightclub
Industry: Entertainment
Thursday, October 29th Nettie Hammar of Tennessee set phasers to stun when she shocked her Trekkie fiance Amos Tharpe with a wedding on the bridge of the Star Ship Enterprise
San Francisco, CA (PRUnderground) October 30th, 2015
Thursday, October 29th Nettie Hammar of Tennessee set phasers to stun when she shocked her Trekkie fiance Amos Tharpe with a wedding on the bridge of the Star Ship Enterprise.
The wildly popular new San Francisco hotspot OASIS produces gender inverted productions of classic TV shows, now showing Star Trek Live!.
Captain Kirk played by Leigh Crow, the worlds only female William Shatner impersonator and an ordained minister, invited the lesbian couple to the stage for a round of Star Trek Trivia, which quickly turned into an out of this world wedding.
Leigh declared the couple to Live Long & Prosper.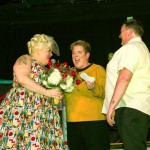 Star Trek Live! will be returning to OASIS for a three week run Jan. 6 – 23, 2016 – (Thurs. Fri. & Sat. -7:00 pm), RuPaul's Drag Race competitor Honey Mahogany will reprise her roll as Uhura.
Make your wedding plans now and maybe Uhura can be your best woman.
About OASIS
Oasis is a new theater / cabaret / nightclub hosted by Heklina and D'Arcy Drollinger located in the heart of San Francisco's SOMA district. We offer the best of gay culture and an unforgettable San Francisco nightlife experience in our 6,000 square foot venue. Our diverse roster of programing includes local and visiting drag stars, cabaret and performing artists, live musical acts, amazing DJs and more. Stop by for happy hour in our exotic Fez Room, buy a ticket to a unique theatrical production, or kick it up at one of our dance parties. Finally there is a place in San Francisco to quench your thirst for fabulous cocktails and culture. Welcome to your OASIS.