Lost Dog Found After 3 Months Thanks to PetAmberAlert.com
Industry: Pets
Couple turn to an Internet pet search site called Pet Amber Alert to find missing dog. The local Humane Society matched the posters from Pet Amber Alert to a dog that was recently found and called the owners.
Akron, Ohio (PRUnderground) February 21st, 2010
Friday the 13th was a lucky day for a local dog who found her way home three months after being lost and alone in the woods four states away.
John and Kathy Dunbar of Firestone Park called their 2-year-old Maltese/poodle mix "the ghost dog." Not only did the 10-pound Mindy have white fur, but she also often slipped in or out of a room unnoticed.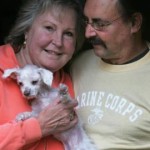 The couple believes that's how her absence went unnoticed on a trip to Maine in August. But they also credit her ability to move quietly with helping her stay alive for more than 90 days in a Massachusetts woods, home to such predators as bears, coyotes and cougars.
"We stopped for a bathroom break on the Mohawk Trail. My husband thought I put her in the car, and I thought he did," Kathy Dunbar said Tuesday.
An hour later, they realized she was not in her bed in the back of their Jeep. They retraced their route and spent the next six hours searching for her.
Eventually, the Dunbars had to continue on their way to see John Dunbar's brother, Michael.
"My brother was ill. We really needed to get there," he said.
The next day, they called shelters and rescues groups throughout the area asking them to be on the lookout for Mindy.
The Dakin Pioneer Valley Humane Society in Leverett made a notation of the call along with Mindy's description.
On the return trip, the couple visited police and fire stations in the area and dropped off business cards in their search.
After they got home, they continued their search online.
They turned to an Internet pet search site called https://www.PetAmberAlert.com, taking the name of the national child alerting system for missing children.
"We find dozens of lost pets each week," Mark Jakubczak, president of the company said Tuesday from his office in New York.
But as Mindy got farther down on the list, the couple gave up hope of finding her.
"On Friday, we got the call that she might have been found," John Dunbar said.
The local Humane Society took a call from a family that had found a dog that matched Mindy's description. But the photos of the dog they e-mailed the couple hardly resembled the dog they lost.
Martha King-Devine, an adoption counselor, looked up Mindy's photo on the Web site and thought the emaciated animal had similar characteristics — nose color, shape of the eyes and one ear that drooped a bit more than the other.
She called Kathy Dunbar.
"I told her not to get her hopes up too high, but someone had called us and said they found a dog matching the description. She burst into tears," King-Devine said.
On Friday, 25 miles from where Mindy was lost, Steve Albertson and his 12-year-old son, Tye, were walking along the Connecticut River. The pair usually takes their weekly forays on Saturdays, but because Albertson's wife and Tye's mother, Carol Carlson, had just been released from the hospital, Albertson took the day off to spend time with their son, who is autistic.
The pair was near a boat ramp when Tye found the bedraggled, starving dog.
"There was this little dog running around in circles. She was blind and tripping over things and falling down," Albertson said.
The dog couldn't see because its eyes were covered with matted fur.
He scooped up the flea-ridden dog and took her to the nearest animal hospital, where veterinarian Lisa Underwood of Pioneer Valley Veterinary Hospital in Greenfield volunteered to check to see if the dog had a microchip to identify her owners.
Underwood, who lived in Wadsworth as a child and graduated from the School of Veterinary Medicine at Ohio State University, said she had no idea the little dog Albertson brought in a pink plastic milk crate was also from Ohio.
"I saw this little white matted ball of a head. I pulled underneath the matts and started cutting them away. I couldn't stop myself," she said.
"When I finished, she was 30 percent the size. She was so tiny, I was in awe."
Underwood figures Mindy stayed alive eating bugs, grubs, plant matter and garbage. She weighed only 4 pounds.
"She worked for three hours on her," Albertson said.
Underwood sent Albertson on his way with food and instructions to give her exactly one teaspoonful each hour so Mindy wouldn't get sick.
She didn't charge Albertson a dime for the unscheduled visit.
Tye, who usually exhibits a fear of dogs, seemed to like the little stray. The couple began thinking that they might have acquired a pet.
"He's paranoid if a dog barks and more so if the owner yells for it to be quiet," Albertson said.
But first, Carlson said, they had an obligation to look for the dog's rightful owner.
"We can't just claim this dog. We have to try to find her people," Carlson said.
She called King-Devine at the Humane Society, who started looking through the lost notices.
"The only dog with her description was lost three months ago. But when they said she liked to watch television, I knew it was her," Carlson said.
When the Dunbars retrieved Mindy at the Albertson's home Sunday, they gave Tye money and told him he could visit the shelter and get a dog of his own.
On Tuesday, Carlson and her son took the money and donated it to the shelter.
Maybe someday, Carlson said. But not until they find another dog like Mindy.