Join CloudFest 2021 for Free with LUXHOSTING
Industry: Information Technology
This year's CloudFest will be held between March 23-25, 2021. Luxhosting, Gold sponsor, offers Industry leading servers, VPS, Reseller, Dedicated Hosting solutions and Hosting Acquisition Services at CloudFest.
Luxembourg, Luxembourg (PRUnderground) March 24th, 2021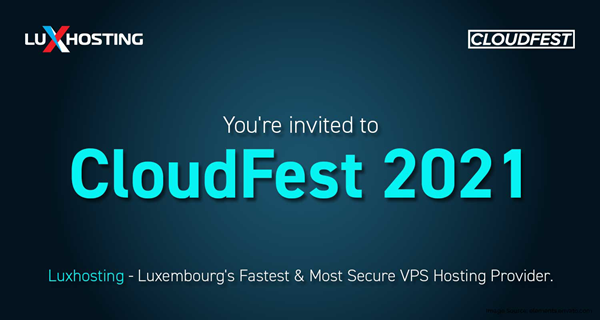 Leading provider, Luxhosting, of web hosting solutions and web security services, today announced it will be sponsoring CLOUDFEST 2021. Luxhosting sponsors CloudFest's virtual conference to encourage entrepreneurs to learn more about cloud services and cloud security from Industry experts.
Luxhosting.lu, this year's gold sponsor offers deals for the fastest and most secure VPS, Reseller and Dedicated Hosting solutions. The hosting provider proudly offers some of the most secure cloud platforms, amidst COVID19 challenges that global businesses continue to encounter. The Gold sponsorship provider helps to power a historic line-up of interesting legends such as Sir Tim Berners-Lee, creator of the worldwide web and James Gosling, father of Java programming language.
CloudFest welcomes attendees from every corner of the globe. Ticket prices are set to zero for everyone thanks to Luxhosting's support, all you have to do is sign up via this free registration link.The biggest online event of the year will give Information about present and future technologies necessary for the growth of your business. The CLOUDFEST virtual event will allow you to network with over 5000+ attendees.
We are Happy to sponsor such an Important Event, it is a MUST ATTEND event for digital professionals.
What to expect –
Top Panelists like Rebecca Weekly from INTEL and senior vice-president of DELL Technologies Matt Baker. In addition, Networking with thousands of attendees and live sessions on Cloud Fest radio.
Territory track on the different continents, more presentations from top Service Providers and their Best representatives.
Presentations on Moving beyond encrypted data, Hosting provider security, More Networking and Closing of the Conference.
About LUXHOSTING
LuxHosting is a reference company for Web Hosting, Domain registration and Website services for individuals, private and public companies, focusing on Luxembourg and Europe.
About Luxhosting