Mobile Food Pioneer Reviews 11 SF Food Trucks
Industry: Food and Drink
Stitches 'n Dishes, a pioneer in the mobile food services industry, completed its week-long tour in San Francisco on October 25, 2011, reviewing 11 gourmet food trucks.
San Francisco, CA (PRUnderground) October 26th, 2011
The tour continues through the year, visiting food festivals, county fairs, events, as well as special feature visits with fairground management, event managers, food trucks and food stands, caterers and bakers. Founders, Christopher Ford and Andrew Nicora provide news, schedules, reviews, high-quality photography, video and media coverage on the Stitches 'n Dishes blog site.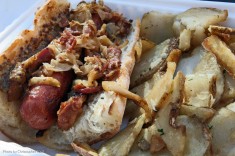 Ford and Nicora developed the "Stitch's Dish Rating" to award one to five plates for service, quality, price, menu selection, and creativity. Ford, Nicora and Stitches 'n Dishes Editor in Chief, Rodney Washington visit and review one-to-three food trucks, stands, caterers or bakers every week. Co-Founder, Andrew Nicora directs Stitches 'n Dishes video coverage, which debuts on the Stitches 'n Dishes Youtube channel today.
Last week, Ford and Nicora, along with Stitches 'n Dishes Editor in Chief, Rodney Washington, and Stitch, the Bichon Frise / Am. Staf. Terrier mix that inspired the Stitches 'n Dishes concept, pulled into what many consider to be one of the best culinary destinations in the country, if not the world – San Francisco and they couldn't be more excited.
San Francisco was chosen because of the wealth of culinary talent the city has to offer plus a burgeoning food truck community. As a matter of fact, food truck Editor in Chief Rodney Washington sat down with the founder of Off The Grid SF Matt Cohen for a one-on-one interview to discuss the City's food truck scene. That interview with Cohen will be published on the Stiches n' Dishes blog later this week.
Ending three packed days in San Francisco this past week ~ one of the world's most respected culinary destinations ~ Ford, Nicora and Washington dined at some of the city's most unique and exciting food trucks and filmed the adventure.
In total, eleven food trucks were reviewed; four trucks alone on the last day. There were several surprise hits and one miss, but overall it was an amazing culinary experience like the Fried Chicken and Honey Glazed Donuts served at the Arki Truck ~ Created by former architect Tim Setiawan who decided to trade blueprints for fried chicken and launch a food truck specializing in serving some of the best in the city, and Mac n' Cheese Spring Rolls and home-made Twinkies created by San Francisco chef Ryan Scott, owner of 3-Sum Eats.
The full review is published on the Stitches 'n Dishes blog site, along with a complete recap of all 11 reviews.
About Stitches 'n Dishes:
Stitches 'n Dishes, the creation of Christopher Ford and Andrew Nicora, and inspired by "Stitch", an American Staff. Terrier mix / Bichon Frise, provides marketing, advertising and PR services to the mobile foods industry and it provides consumers with a single source for original articles, reviews, food photography, California fairs and events, discounts, contests and giveaways.
Stitches 'n Dishes is California's first provider of a platform that stitches a link between food lovers, entertainment venues and mobile food operators, and the first fully dedicated marketing, advertising and development resource available to food vendors in California.
Contact
Christopher Ford, Co-Founder
Stitches 'n Dishes
chris@stitchesndishes.com
916-612-9954
Rodney Washington
Stitches 'n Dishes
rodney@stitchesndishes.com
858-413-7526