Mobile Foods Pioneer Presents Best Food Truck Award
Industry: Food and Drink
Mobile foods pioneer, Stitches 'n Dishes announced that it presented its first Best Food Truck Award on December 3, 2011 by a popular vote.
San Francisco, CA (PRUnderground) December 9th, 2011
Stitches 'n Dishes, California's only network of vendors, venues and their fans, providing news, schedules, reviews, high-quality photography, video and media coverage named a San Francisco-based food truck, "Best Food Truck" by a popular vote counted on December 3, 2011 at the third Sacramento Mobile Foods Festival, sponsored, in part by Stitches 'n Dishes.
Nearly 700 of the 2000 attendees at the event were polled, and asked to vote for their favorite food truck of the day, after a sampling from upwards of 23 food trucks at Northern California's largest and most diverse mobile foods festival. Sixteen of the 23 vendors received votes, while seven received no votes.
Ballots were included in an entry form for a drawing to win a Nintendo Wii Console bundle package with several games, sponsored by Stitches 'n Dishes. The entries were tabulated immediately following the conclusion of the event, and double-counted.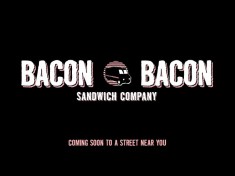 The Bacon Bacon truck owned by Jim Angelus of San Francisco received nearly 20% of the votes, earning the title, "Best Food Truck" at the Festival. Stitches 'n Dishes Co-Founders, Christopher Ford and Andrew Nicora, along with Stitch, the blog site's mascot, will present a plaque to Angelus in recognition of the accomplishment in the next 10 days.
"We're very happy to present our first 'Best Food Truck' award to Jim Angelus and his Bacon Bacon Truck," said Ford. , "Jim possesses a certain unique creativity that we only run into every so often. He listens and responds to his customers, and he's interactive and engaging. His mobile restaurant is a true reflection of his own personality. When you reach this level of creativity, your customers respond. It's no surprise that he took this award."
Launched in July, 2011, Bacon Bacon was listed in the top ten food trucks in San Francisco by the Chase Sapphire Visa Signature Eater's Choice Awards in October and continues to take Northern California by storm.
"I couldn't believe we were voted Best Food Truck. It's an honor," said Angelus.
Read about the second and third place holders at the third Sacramento Mobile Food Festival, as well as an interview with Jim Angelus in the full article at https://stitchesndishes.com/2011/12/best-of-best-add-bacon-please/
Christopher Ford, Andrew Nicora and mascot, Stitch will present the plaque to Angelus in front of his Bacon Bacon food truck in San Francisco, CA in the next ten days. Media should contact Christopher Ford for the date, time and location. The date, time and location will also be announced prior to the presentation.
About Stitches 'n Dishes:
Stitches 'n Dishes, the creation of Christopher Ford and Andrew Nicora, and inspired by "Stitch", an American Staff. Terrier mix / Bichon Frise, provides marketing, advertising and PR services to the mobile foods industry and it provides consumers with a single source for original articles, reviews, food photography, California fairs and events, discounts, contests and giveaways.
Stitches 'n Dishes is California's first provider of a platform that stitches a link between food lovers, entertainment venues and mobile food operators, and the first fully dedicated marketing, advertising and development resource available to food vendors in California.
Contact
Christopher Ford, Co-Founder
Stitches 'n Dishes
chris@stitchesndishes.com
916-612-9954