Morganville 10-year-old donates birthday gifts to charity during party held at Air Trampoline Sports
Industry: Kids
10-year old Aaghi Nayar donates all birthday presents received at his birthday party, held at Air Trampoline Sports in Aberdeen to Keyport Ministerium Food Pantry.
Aberdeen, NJ (PRUnderground) November 19th, 2015
A Morganville boy celebrating his 10th birthday at a trampoline park in Aberdeen chose to donate all the gifts he received to charity. The birthday boy, Aadhi Nayar, came to a profound conclusion coming into this year's holiday season – that there are people in the world less fortunate than him, and that he could do something to help.
Aadhi said that a coat drive held by his baseball trainer had an inspiring and eye-opening effect. "I realized that there are homeless people and people with nothing during the holidays," said Aadhi. "It's not fair."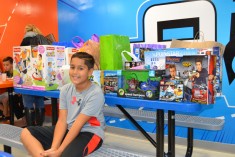 His parents were taken aback by their son's request in the best way possible. "It was a complete surprise to us," said Keta Nayar, Aadhi's mother.
"Our family has done charity work before," commented Aadhi's father, Rahul Nayar, "but neither of us expected something like this from him."
About 30 children showed up to Aadhi's party, held at Air Trampoline Sports, a trampoline park in Aberdeen. The guest parents and their children were very supportive of Aadhi's decision.
At the time, Air Trampoline Sports held a Thanksgiving Food Drive, to which Keta and Rahul suggested guests donate to as well. Aadhi's guests were happy to do so, some bringing food along with a gift to be donated.
"We've never had anything like this before, in any of our locations" commented Ken Stone, owner of Air Trampoline Sports. "It was a great moment seeing someone so young being so generous."
Air Trampoline Sports' food drive was in partnership with the Keyport Ministerium Food Pantry, the same organization that Aadhi pledged his donations to. The Food Pantry holds an annual Christmas Sponsorship Program, where donors sponsor and fulfill holiday wish lists of underprivileged children.
Although the Food Pantry successfully fulfills the wish lists of many needy children, over a hundred are left un-sponsored and giftless annually. Aadhi's charity helps to alleviate the need, where he will become the anonymous sponsor of dozens of his less fortunate peers.
"It's incredible that Aadhi is being so generous at such a young age," said Rahul. "We hope that this birthday is the first of many acts of generosity in his life."
Aadhi is the oldest of three boys, to which his parents hope will be influenced by his generosity. "[Aadhi] is setting a great example for his siblings," said Keta, "and we hope that he leaves a lasting and positive impression on his friends and his peers."
About the Keyport Ministerium Food Pantry
The Keyport Ministerium Food Pantry provides temporary and ongoing assistance to persons residing in the Northern Bayshore area of Monmouth County. In addition to food assistance, the pantry also offer referrals for Food Stamp pre-screening and to government/private agencies for additional/specific needs.The pantry is a member of the Food Bank of Monmouth/Ocean Counties and receives food from the U.S. Department of Agriculture (USDA) and the State Food Purchase Program (SFPP) via the food bank. In order to provide additional items the pantry receives generous donations of both food and/or money, clothing and other items from the original nine churches that make up the Ministerium, other Churches, Civic and Private Organizations, Businesses, Schools, Boy Scouts, U.S. Postal Service, Individual Donors and so many others. For more information visit www.keyportfoodpantry.org. Follow on social media at www.facebook.com/KeyportFoodPantry.
About Air Trampoline Sports
Located on 111 State Route 35 Cliffwood, Air Trampoline Sports has 18,000 square feet of trampolines, including four foam pit lanes, three slam dunk basketball lanes, three unique 3D dodgeball courts, a high jump platform and a gymnastics performance track. There are no specific age restrictions for jumpers and all sessions have a designated kid's area. Free Wi-Fi is available throughout the park. The park has concessions, plenty of seating areas and an arcade for all to enjoy.