Motivational Speaker- Faisal Sajwani, A Vision to Inspire The World
Industry: Entrepreneurs
A vision to use his intellect and experience to help people reach their full potential in order to succeed.
Dubai, United Arab Emirates (PRUnderground) September 15th, 2019
Since childhood, Faisal always had a passion for traveling around the globe and exploring different cultures. He achieved to visit upto 30 countries worldwide, which made this a hobby that vastly contributed to his knowledge. While traveling at a very young age and meeting people from different backgrounds, Faisal developed a fond interest in human psychology. This enabled him to gain a broader perspective on life and understand the vital importance of the human mind in shaping our lives. With the aid of his remarkable experience and insight, Faisal Sajwani took the initiative to help people from all around the world to achieve their goals and dreams in order to uplift society to its true potential.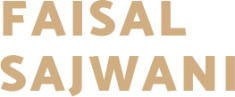 He uses his invaluable experience and intellect to shed light on the human mind and how it invariably influences the decisions an individual makes. His aim is to build a strong and unwavering foundation in Motivational Speaking & Life Coaching by inspiring people to not only push themselves against all odds but to thrive at any given challenging situation. 
His strong volunteering spirit & great zeal for helping people stems from what he keenly observed and learnt from the most important figure in his life – his mother, who undoubtedly shaped him into the kind, humble man he is today. As a result, he exudes a strong drive to make a positive difference in the lives of the people around him. That being said, his passion for helping people has led him to invest his time in learning about psychology, analyse the human behavior and curate hypothesis that may very well benefit society. 
With his Bachelor's degree in International Studies combined with years of understanding, studying and observing the human mind and behavior, Faisal wishes to create an environment where an individual can surpass their fears with utmost confidence and achieve their dreams with the right support, guidance and mentoring. 
Faisal Sajwani aims to introduce a new perspective in society by breaking stereotypes and inspiring people to achieve their true potential in order to create the life that they desire. 
About Faisal Sajwani
An inspiring Motivational Speaker, Faisal Sajwani is a visionary Emirati who has a strong passion for helping people achieve their goals and reach their full potential. He believes that the mind is a powerful tool. Once set in the right direction, it can be used to achieve anything in life. With his guidance, Faisal Sajwani can help you breakthrough challenges and reach your full potential in order to succeed.