Motorcycle Accessories Company BigPantha Plan to Upgrade Their Motorcycle Helmet Lock by Q2 2018
Industry: Automotive
Bradenton, Florida (PRUnderground) January 29th, 2018
Motorcycle helmets are an absolute necessity when on the road. They have been known for saving the lives of many individuals who have would otherwise had to face severe injuries from their accidents.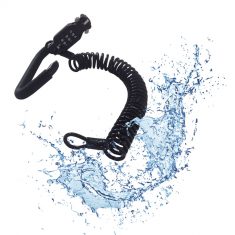 While the helmets themselves have a lot of benefits, one hassle that stops many people from using them is the lack of options to place them anywhere. Most people have to thus carry them around like luggage and that is obviously too much of a hurdle.
Big Pantha is a motorcycle helmet accessories provider that has resolved this issue by releasing their motorcycle helmet lock that securely tightens a helmet to one's bike. Through this, one can keep their helmet parked with security right along with their bike and not have to deal with carrying it around all day long.
The lock is made using a tough, black, all-in-one combination PIN locking carabiner device and cable. It  comes with a lifetime guarantee from BigPantha. The product has alleviated the problems of many users – and has an astonishingly high rating of 96% on Amazon. While appearing as quite simple on the outside, the effectiveness of this product has allowed for a lot of easiness in the lives of a multitude of people.
The lock supports half face and full face helmets, and thus, one doesn't need to buy different locks based on the size or type of their helmet. The lock will be receiving an upgrade in 2018. A premium carrying pouch will be provided alongside the product – and this too at no cost at all. This makes it so people are able to carry their locks in a small yet sturdy pouch.
This upgrade will be available in just a few months' time and should be available by April 2018. Big Pantha's helmet lock just got better without any price increases! It has become an absolutely vital part of one's biker gear.
About BigPantha
About: BigPantha is widely trusted for its reliable, easy to use and smart products. For more information, please visit https://www.bigpantha.com/motorcycle-disc-brake-lock/