MYCA:Learning Just Released Online Harassment Prevention Course Complying with AB 2053 Law
Industry: Technology
MYCA:Learning releases H.E.R.O. – Harassment Education and Retaliation Overview, an innovative, story-based harassment prevention eLearning program,
Cincinnati, Ohio (PRUnderground) December 23rd, 2014
CA and TN recently passed 'abusive conduct' laws to support healthy workplace concepts.
Starting January 1, 2015, California's AB 2053 requires employers to include 'abusive conduct' as a component of their harassment education and training course (AB 1825) for supervisors.  That ruling, coupled with the fact that employers are still being successfully sued for sexual harassment because their managers and supervisors did not follow their employer's anti-harassment policy, increases the need for employers to critically evaluate their sexual harassment prevention training and ensure it delivers real and measurable results.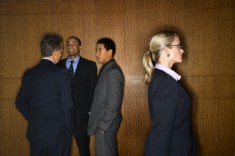 Harassment Prevention Training should be comprehensive and resonate with employees. H.E.R.O incorporates character-driven situations via a detective agency setting.  The course covers issues such as LGBT sensitivity, Gender Identity, Protected Characteristics Harassment, Bullying/Abusive Conduct and Retaliation Prevention.
Course outcomes:
Facilitates behavior change
Engages supervisors/employees who have attended multiple courses
Legally defensible  –  written by the most experienced sexual harassment prevention SME in the United States
Investigate "H.E.R.O. – Harassment Education and Retaliation Overview".  This innovative mystery-themed, story-based eLearning training invites participants to interact in a 3D virtual environment to discover who was suspended and why.  In the process of discovery, participants learn effective methods for stopping and preventing harassment and bullying.
H.E.R.O. was created by MYCA Learning in partnership with international harassment prevention and workplace investigations expert Stephen F. Anderson, President of Anderson-davis, Inc. The course utilizes over 40 story-based video scenarios to challenge participants' understanding of their employer's anti-harassment and retaliation policies while also teaching them when and where they apply.
H.E.R.O. engages all demographics in field and office work environments – from Gen-Y and new hires to senior employees and management who've taken multiple harassment training courses. Utilizing an interactive approach, employees collect clues to solve the mystery of which character was suspended – instead of simply being asked and/or told whether a situation constitutes harassment. The program presents strong characters and workplace situations that leave a lasting impression about the harm caused by harassment and retaliation, and reinforce the value of treating everyone with respect.
H.E.R.O. complies with the law in all 50 states—including sexual harassment training standards in CA (AB 1825, AB 2053), CT, and ME and TE HB 1981 and SB 2226.
When asked what makes the H.E.R.O course so effective,  Patti Massey, president of MYCA Learning, responded. "MYCA uses an immersive learning approach designed to fully involve learners in highly interactive training content. In alignment with this mission, the H.E.R.O. course challenges participants in the initial minutes of the course and continues to engage using relevant scenarios spiced by a mystery-themed storyline.  This course appeals to those who have taken multiple harassment prevention courses and  who need to seea new approach that teaches and entertains."
H.E.R.O.'s unique design helps ensure retention, thereby enabling application of practical prevention and resolution techniques – techniques which protect your employees from work draining drama and your enterprise from costly litigation.
About MYCA:Learning
Founded in 2004 by Patricia Massey, winner of the prestigious WBENC Star award in 2012, MYCA:Learning proposes, develops and delivers engaging and interactive eLearning solutions that improve performance and competency in today's private and public sector workforce, with a specialty area in The Respectful Workplace, diversity, inclusion and workplace harassment prevention. We are a learning organization with an emphasis on eLearning, making continual technological updates to disrupt the status quo, create best practices and always improve client outcomes.