New SUV Model and Diesel Engines Announced by Bentley
Industry: Transportation & Logistics
Bentley the luxury car manufacturer is enjoying something of a renaissance, with world wide acclaim and demand for their prestigious luxury cars
Surrey, London (PRUnderground) November 22nd, 2011
The British luxury manufacturer Bentley Motor Company is enjoying something of a renaissance, with world wide acclaim and demand for their prestigious vehicles which are seen among the best of motoring excellence. The company that was originally established in 1919 has rich racing pedigree which stems from the company's successful background in motorsport.
This competitive form has been continued into the 21st century with a Bentley setting a new world speed record on ice earlier this year. The record was set by former World Champion rally driver Juha Kankkunen, achieving a phenomenal speed of 205.48mph. So with amazing accolades like these, buying a used Bentley will certainly remain a good investment, as well as a sublime driving experience.
Bentley has recently announced that they will be adding a diesel engine option to their range, which is a first for the company. It has not been confirmed exactly which engines they plan to use, but it is expected for the company to use both the powerful and economical V8 TDi and V12 TDi diesel engines from Bentley's parent company VAG (or Volkswagen Group).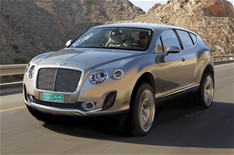 Also announced in recent moths was the green light for production of Bentley's forthcoming 4×4 SUV, with production is expected to start in 2014. The planned Bentley SUV is expected to use technology again from VAG, by utilising the chassis from the forthcoming Audi Q7 SUV.
The Bentley SUV is expected to be offered in both the petrol and new diesel options available. The move into the luxury SUV market is natural progression with the aim at the upper end of the spectrum of the luxury SUV market; while at the same time fill the gap in the current Bentley range of vehicles.
These are exciting times for the Bentley with all these new developments in the future. So, If you are looking for luxury cars for sale then contact Romans International. As one of the UK's Bentley specialists, we can offer you unparalleled service and best advice possible when purchasing your next Bentley.
About Romans International:
Romans International is just one of a handful of dealers within Europe who possess an extensive and often exclusive range of the most desirable and exceptional models available, along with their reputation which is second to none.
All Romans International's advertised range is physical stock, which gives them flexibility to satisfy the customer needs, when making a purchase. They can make the whole process easy and efficient, as customers can literally arrange a viewing for their desired vehicle, arrange payment and simply drive it away there and then.
So if you would like to talk to Romans International about any of their luxury sports cars that they currently have in stock, or even possibly about any particular car brands or models they could source for you, then do not hesitate to them today – 0844 249 5186 for further details.