Pasadena's prominent marriage counselor, Arolyn Burns, wins the 2020 Three Best Rated Award
Industry: Business
Pasadena, CA (PRUnderground) June 14th, 2020
Arolyn Burns LMFT, LPCC, an eminent Psychotherapist and a renowned marriage counselor in Pasadena, California, has won the 2020 ThreeBestRated® Award for the best marriage counselors. Her recognition as Three Best Rated marriage counselor comes after checking and evaluating various aspects of her practice using a 50-point inspection carried out by Three Best Rated.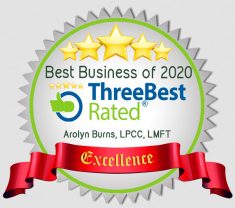 Who would have thought someone who has been fervent about being an actress, in a dramatic move would turn out to be one of the best psychotherapists in her town. Before becoming a psychotherapist, Arolyn studied communication with a film emphasis in pursuit of becoming an actress. Later, she switched her field. She says, "I never chose this profession. It chose me." She says her love for helping others heal has led her to his career.
Specialization and Expertise:
Arolyn is a licensed therapist and has been in practice since 1997. She specializes in working with individuals dealing with anxiety, phobias, trauma & chronic pain. She incorporates a variety of modalities including, Dialectical Behavioral Therapy, Cognitive Behavioral Therapy, Havening, Solution-focused techniques, and much more. She is also a Licensed Professional Clinical Counselor. Arolyn has created a powerful technique for treating phobias, in which healing happens in five sessions. She integrates body, mind, and spirit with all five senses in the healing process. She loves her clients getting healed on a regular basis and provides tools to support the process.
Arolyn says, "Some clients like Walk & Talk Therapy, some prefer traditional sit-down, while others prefer Virtual, or video therapy." She tailors the therapies according to the patient's needs or in an appropriate way to alleviate their problems. Arolyn feels grateful about having a gift of empathy, understanding  & acceptance combined with over 20 years of training  & experience for people from all walks of life. She is a recipient of several awards and accolades during her practice and feels honored to receive the prestigious ThreeBestRated award. She has been listed on Three Best Rated for more than three years in a row.
Arolyn is the Director of "The A Treatment Center". Even during such unprecedented times of the COVID19 crisis, she continues to offer therapies to patients at The A treatment center in Newport Beach and Pasadena CA.
About ThreeBestRated
Three Best Rated® was created in 2014 with the simple goal of finding the top 3 local businesses, professionals, restaurants, health care providers, and everything in-between, in any city. Every business is meticulously handpicked by our employees. We check business's reputation, history, complaints, ratings, proximity, satisfaction, trust, cost, general excellence, reviews, and more, using our 50-Point Inspection. We only display businesses that are verified by our employees. Other places will call this "hard work" and "unnecessary". We call it "due diligence" and "the right thing to do". Our website is updated on a regular basis for quality and the latest business information.
Three Best Rated has the honor of helping 4.5 million customers every month find the best businesses in any city – without any effort!