Plus Size Dating App, WooPlus, Invites All Plus Size Girls and Guys to Embrace Their #curvypower
Industry: Lifestyle
WooPlus, the plus size dating app for BBW (big beautiful women) and big guys, launched hashtag #curvypower, to give people with curves the chance to show off their beauty.
San Francisco (PRUnderground) June 14th, 2017
WooPlus, known as the Tinder for curvy and plus size people, has launched the hashtag #curvypower on Instagram to encourage body positivity. This new hashtag is intended to inspire curvy girls and guys alike to display their own, unique beauty.
The #curvypower trend began with one set of photos on Twitter, which quickly went viral after being posted. A curvier girl shared the prom photos that she and her boyfriend took. Online bullies were quick to make negative comments about her body size saying things such as, "Wow, he loves you even though you're fat." The girl's response was, "I don't see how people can be rude to people they don't even know." The WooPlus team agreed completely.
"We still can't stop wondering why, even nowadays, people are still judging others based on their figure. So we decided to do something about it by launching our Instagram hashtag, #curvypower." –Neil CEO of WooPlus
 In order to get more people to hear the voices of plus-sized people, and to show the natural beauty and power of curves, the dating app decided to launch its body-positive hashtag. WooPlus is using the newly launched hashtag to show everyone that sexy is not about size, but rather a state of mind— an idea that has been neglected by too many people.
WooPlus started the #curvypower campaign in its community by posting officially on its app, encouraging users to speak out and post photos they felt confident in while using the newly-launched hashtag. Members quickly joined in. The trend really took off after many plus-size models began using and promoting #curvypower.
One of these plus size models, Ellana Bryan, accrued over 4,000 likes on her #curvypower post, which resulted in much discussion among her fans regarding body shaming and body positivity. Ellana Bryan's post inspired other plus size models to join in the discussion as well.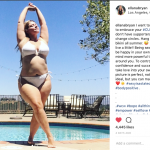 Since the launch of #curvypower, there have been more than 10,000 posts promoting body positivity using WooPlus's hashtag. This number continues to increase every day as people advocate for the idea that your body is beautiful no matter what type or size.
About WooPlus: The WooPlus Application has caused a lot of controversy since its release because it is exclusively for plus size people who haven't had enough luck on conventional dating apps. Despite any criticism for being "overweight supporting," the WooPlus team stands by the idea that people with curves should be provided with a place in which they are comfortable looking for a partner and for that it has been embraced. WooPlus truly does admire and celebrate all kinds of beauty in all shapes and sizes.
For more information, join WooPlus's ongoing discussion with #curvypower on Instagram, or install the WooPlus app through the App Store or Google Play.
About WooPlus
WooPlus is the dating app for curvy girls and their admirers. Currently we have more than 500,000 users worldwide, and have created more than 1million matches.