PowerPoint Alternatives Expert Focusky Updated Their YouTube Channel with New Video Tutorials
Industry: Mobile Apps
The well renowned PowerPoint alternatives maker Focusky has recently added some more tutorial videos on presentations skills, creation, marketing skills and more
Hong Kong, China (PRUnderground) December 7th, 2015
Working on to make it easier for people to know about presentation skills, how to create amazing animated business presentations and much more, Focusky has updated their YouTube channel by adding a few more video tutorials for people to watch and learn from. The maker of one of the best PowerPoint alternatives, Focusky has been working on to provide their clients with the best working experience with them and their YouTube channel is assisting them in it. The channel can be subscribed to by anyone to be informed about all latest Focusky updates, and get more expert inputs about presentation and marketing skills much more.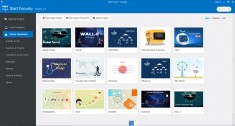 Mattie Lee, Head Designer of Focusky, said that the idea behind developing Focusky, one of the best PowerPoint alternatives, was to provide their clients with something that can help them in getting rid of regular plain slides for their presentations and present to them a tool through which they can create highly engaging and eye-catching business presentations in a whole new manner. As told, their YouTube Channel (https://www.youtube.com/channel/UCvICDtdeHkEBn01xtSr28Ow) is an expert guide that assists their clients in understanding the essentials of successful presentation creation and delivery along with effective marketing strategies. The channel also keeps them updated with all Focusky notifications.
The PowerPoint alternative by Focusky allows creating amazing presentations in minutes with its modern and simple UI. As reported, it provides the presentations with video like zoom and pan effect and stunning automated transition effects to make it look much better than plain slides. Enriching the presentations with images, audio, YouTube videos and much more, it provides a new and enhanced look to the presentations.
Now with the announcement of additions of new video tutorials to their dedicated YouTube channel, Focusky has made it much easier for their clients to go through all the key points, tips and tricks about creating highly effective presentations, presentation skills and affective marketing strategies. People can subscribe to the channel to get latest updates of Focusky.
About Focusky
Focusky is a premium presentation creating platform to create quality animations, presentations and videos. It provides the killer business presentation tool for the users to deliver the awesome visual experience. Both Windows and Mac users can take good advantage of it to make the animated video for presentation.