Prunderground Analyzes Top SEO Software Company Caphyon.
Industry: SEO
(PRUnderground) January 28th, 2010
[SWF]https://www.youtube.com/v/ySH8Q3q2pWo&hl=en_US&fs=1&, 540, 344[/SWF]
The search engine marketing industry offers so many tools to track your website. There are so many companies that offer you their Search Engine Marketing Tools. Last week I decided to use a link analysis tool to determine how well my website was ranking. knowing that I needed to find a tool that was not a waste of time, I went to Gina Nieves of Marknet Group Inc, I told her what I was looking for and she told me about Caphyon. She stated that their SEO tools were unmatched in the industry. Her exact words were; "Hands down the best website ranking SEO tools I have used to date".
I decided to take a look at their products to see what all the hype was about. I went to their website https://www.caphyon.com and the first thing I noticed was how clean and fresh their website looked. You can tell a lot about a company if their website is clean, easy to navigate and user friendly. It is like going to someones house. If you go to their house and it is a mess, then chances are their lives are a mess too. Their user support is incredible. They thought of everything from a very descriptive and step by step user manual, FAQ's, Forums, Email to even phone support. All the bases are covered and believe me they are fast to respond and help with every question.
Right away I was able to see that I could download 4 different products. Whether it is for website ranking, link popularity, windows installer or web stats, you can download these products and evaluate the full version of the programs offered for a 30 day trial period. We are not talking about downloading a trial version that does not include every feature. We are talking about downloading the complete program. All the features of Standard, Professional, Enterprise and Server editions are enabled during the 30 day trial period. They are so sure of their products that they want you to try the full package with all the bells and whistles.
This my friends is a great marketing technique which the have mastered. If you are seriously considering getting the most complete search engine visibility software package for your business, I guarantee that after you use the trial version, you will buy the product.
These are the products that were offered by Caphyon:
1. Advanced Installer – Used by top companies around the world such as Intel, Apple, Sony, Nasa, Microsoft Google and Dell, It is a Windows Installer tool for removing installing and maintaining applications that run on windows systems. The beauty of this program is that it is User friendly, completely GUI driven, with no scripts to learn, no databases to edit and no XML to write. This is such an easy product to use that you do not have to be a top software developer to use it. It has so many features that you will without a doubt find this program to be a necessity you cant be without. This is a great java installer program that will really simplify the process.
To learn more about this product click here Advance Installer Features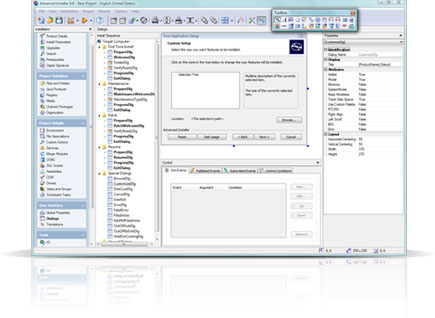 2. Advanced Link Manager – How would you like to use a program that truly lets you manage and monitor your incoming links. With Advanced Link Manager you can truly analyze your website's link popularity. It is a great tool to have when trying to find relevant link opportunities. Included in the program are some great features such as – Link popularity analyzer, Keep track of your paid links, find partner links and even information about the partners you plan to link to. valuable information such as domain age and page rank of a potential partner. Again another user friendly, robust and clean program to use. Possibly the best link manager of it's kind on the market today.
To learn more about this product click here Advance Link Manager Features
3. Advanced Web Stats – Here is another beauty of a program. Advanced Web Stats software allows you to effectively track and analyze your website statistics in real time. Think Google Analytics, now take that 3 steps further. This program has features such as conversion tracking, analyze site performance, visitor behavior, goal verification, hybrid tracking, geographic analysis, server traffic and so much more. There are a couple of major pluses with this program.
One huge plus is that you can fully customize it by adding your own logo and change the CSS. You can easily set the header and footer with your companies information. You can customize this baby any way you want. The ability to customize really makes it your own.
The second huge plus is the fact that Caphyon has decided to have an open Beta testing program to obtain important feedback and suggestions from it's customers. This somehow reminds me of how Microsoft decided to let PC makers and programmers beta test Windows 7 so that they could make an operating system that would work well with the customers wants needs addressed. To show their appreciation, Caphyon will reward the beta testers who help improve the application with free licenses, once the application is released.
To learn more about this product click here Advance Web Stats Features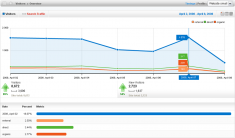 4. Advanced Web Ranking – I have tried a number of these applications that say they are robust, dynamic, easy to use, clean interface..etc. Somehow we always find them all to difficult to use. That is until I started using this program to manage my search engine rankings. what a program it is. This program has it all. it really is robust, dynamic, easy to use, clean interface, customizable and just like their other programs, outstanding customer service.
Lets take a look at what this program offers:
• Keyword Research Tool Also included in Keyword Research is the Keyword Builder feature. This feature takes the individual keywords you provided and creates more complicated keywords. It also allows you to find the best keyword combination's. If you need to target important keywords, no need to worry it also includes a Keyword Suggest feature that works extremely well.
• Keyword Analyzer Another useful Keyword tool is the Keyword Analyzer. It is always important to analyze your website first. doing so you will easily compare keyword prominence between your site and the your competitions site. With this tool you can find out your keyword density, page occurrences, occurrences in the anchor text and the word count of each word found.
• Link Popularity Analyzer In order for you to rank high on the search engines, you need link popularity. Find out what the popular keywords are. With this tool you can find out who links to your website. You can even check out your competition and find out who they link to.
• Keyword Research Tool Need help researching keywords that are powerful and effective, then this tools will work wonders for you. It helps you research and get new keywords ideas by offering you multiple keywords analysis tools to choose from. It automatically imports collected keywords to your project or creates a new project with the collected keywords.
• Google Preview Tool With the Google preview tool it does not matter if you are in the United States, Europe or anywhere else in the world. You can get accurate website rankings with this tool. Using the Google Preview Tool you can check your customers website rankings from your desk regardless of where they are in the world.
• Project Management With Project Management you can manage multiple accounts at once. This area has so many sections. It has the project details, reports, scheduled task, triggers, notes, events, backups and data templates. When I ran my report I was able to customize it with my company logo. It saved me so lot's of time.
•User Profiles You are allowed to create as many custom user profiles as you wish. You can also set limits to their admin rights.
You can define a condition with the help of the customizable filters and you will receive a special report with only the data you are interested in. Triggers can be created for a certain project or for a list of multiple projects.
There are so many more options that are included with this program. It was with this program that Gina Nieves of Marknet Group Inc got my attention. When I saw the report she had created for a client I was amazed and had to know how this very detailed report was created.
To learn more about this product click here Advance Web Ranking Features
Quite frankly they do offer the best software at the best price. Their SEO tools are unsurpassed in my opinion. As I said before other software companies, small and big should look at their customer support and emulate it. Prunderground will soon have a whole new website with a different interface. You can count that we will definitely be using all their tools for our SEO and website stats needs. Check out https://www.advancedwebranking.com