Pumpkin Pizza & Pomegranate Pizza Star At Chef Gorji Culinary Event
Industry: Food and Drink
Pumpkin pizza, pomegranate pizza and chocolate pizza paired with wines from Portugal and Italy highlight Chef Gorji and Whole Foods Addison 'Pizza, Wine & Fall Produce'
Dallas, Texas (PRUnderground) October 8th, 2015
Pizza, Wine & Fall Produce Event: Featuring Pumpkin Pizza and Pomegranate Pizza
Chef Gorji, owner of Canary By Gorji Restaurant, creator of Gorji Gourmet Foods and Zing! cookbook author teams up with Whole Foods Addison for a fall culinary event featuring Gorji's signature Crispy Skillet Pizzas made with fall produce from the grocer. Pumpkin Pizza, pomegranate pizza and chocolate pizza, paired with wines from Portugal and Italy, will highlight the evening at Canary By Gorji, his upscale restaurant in Dallas that specializes in New Mediterranean cuisine.
Gorji says, "l want to show the versatility of these unique fruits by serving them as pizza sauces and toppings." Pizza sauce is one of his specialties; his line of Gorji Gourmet Foods® pizza and pasta sauces won gold, silver and bronze awards at ZestFest 2015.
Pumpkin Pizza and Pomegranate Pizza Are Delicious Ways To Prepare Nutritious Ingredients
Produce experts from Whole Foods Market will be available for discussion, questions and some fun, interesting information about local fall produce. Pumpkins are no longer just for Halloween carvings and pies at Thanksgiving. Full of vitamins and minerals but low on calories, they are used in recipes for soups, breads, pastas and many more dishes including Chef Gorji's crispy skillet pumpkin pizza.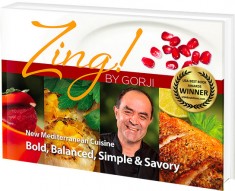 Pomegranates can also be used in a variety of ways and are thought to be an excellent source of fiber and vitamin C. Gorji is known for his use of pomegranates in his New Mediterranean cooking and his cookbook Zing! His pomegranate pizza is one of the latest additions to his pomegranate repertoire. He debuts a dark chocolate pizza with fall fruit for dessert.
This one time only special event will be held Monday, October 19, 2015 at 6:00p.m. at Canary By Gorji Restaurant, 5100 Belt Line Rd., #402, Dallas, Texas 75254. Seating is limited and pre-payment is required. Please call 972-503-7080 for reservations.
About ChefGorji.Com
Gorji has been chef-owner of Canary By Gorji, a small 10-table restaurant in Dallas, Texas for 12 years. He has published an award-winning debut cookbook, Zing! By Gorji, featuring his signature "New Mediterranean" cuisine and developed his product line Gorji Gourmet Foods from recipes he uses in his kitchen. They include Pomegranate Vinaigrette, Dipping Oil /Marinade and Arrabiata Diavolo, Puttanesca & Pomodoro pasta sauces. All three won Best Pasta Sauces, winning gold, silver and bronze at Zestfest 2015.The Arrabiata Diavolo, won silver for 'Best New Product'.