RumorFIX MONDAY EXCLUSIVES: Does Adam Levine Have a Beef with Christina Aguilera and First Pictures of Wayne Brady's New Girlfriend
Industry: Entertainment
RumorFix sets the record straight on the alleged "Beef" between Adam Levine and his "Voice" co-star Christina Aguilera ALSO RumorFix has the first photos of Wayne Brady's new girlfriend since his divorce
Hollywood, CA (PRUnderground) June 20th, 2011
Several gossip sites are saying that Adam Levine and the other judges on The Voice can't stand Christina Aguilera, but RumorFix.com went straight to Adam to get the truth.
We caught up with the Maroon 5 singer at Scooter Braun's 30th birthday this weekend and asked about the alleged beef with the crazy blonde. "Man there's no beef," he told RumorFix.com.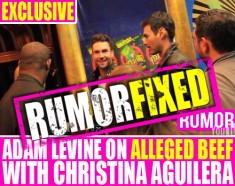 And just in case anyone wants to start a rift between Adam and Cee Lo Green, don't try it.
Adam tells RumorFix.com, "Love Cee-Lo. He's the main man."
http://rumorfix.com/full-entry/2011/6/20/everyone-hates-christina-aguilera-except-adam-levine.html
Daytime Emmys host Wayne Brady didn't win a trophy Sunday night, but he started the night a winner by hitting the red carpet with his new girlfriend, Yvette Gonzalez-Nacer, RumorFix.com is reporting exclusively.
The Let's Make A Deal host tweeted a video of the two calling the Cuban-American actress "my beautiful date."
The two met on the set of Yvette's Nickelodeon TV show, Fresh Beat Band.
The beauty, who can sing, dance and act, has been dropping hints about a possible romance in several recent interviews. She told American Cheerleader magazine, one of her celebrity crushes is Wayne Brady.
And, when BSC Kids asked her who she enjoyed meeting most, she responded: "Without a doubt, I would have to say it is Mr. Wayne Brady. He is one of the most awesome, talented and genuine people I have ever met. What can I say? I love him!"
http://rumorfix.com/full-entry/2011/6/19/emmy-host-wayne-brady-is-dating-yvette-gonzalez-nacer.html