RUMORFIX WEDNESDAY NEWS: Vienna Girardi Is Freaked About Jake On The Bachelor Pad 2 And Snoop Dogg Buys Wife A Big Gift
Industry: Entertainment
Vienna Girardi is freaked out that Jake Pavelka will be in Bachelor Pad 2 and Snoop Dogg buys his wife a $50,000 anniversary gift. Amazing what 14 years will buy!
Hollywood, CA (PRUnderground) June 15th, 2011
The cast of Bachelor Pad 2 has been announced, and last year's winner Natalie Getz tells RumorFix.com exclusively that Vienna Girardi "is freaked out that Jake Pavelka will be in house with her and her new boyfriend."
Vienna, who was picked as the winner of The Bachelor a season ago, hasn't spoken to or seen Jake since taping the post break-up episode and she's now "very serious" with Kasey Kahl, who was on Ali Fedotowsky's season of The Bachelorette.
"Vienna and Kasey can't s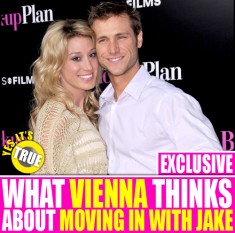 tand Jake, so I'm curious to see how it turns out," Natalie tells RumorFix.com.
As for Jake, Natalie says, "He keeps his distance from Bachelor cast mates and thinks he is above the franchise, yet he jumped at the opportunity to go back on."
Since Natalie won the reality competition show last year, she knows what it takes to win and she thinks Vienna and Kasey will make it to the top four if not win the whole thing.
"Jake doesn't have friends in the house. And, Vienna does not hold back, so if I were Jake, I'd watch out!" she says.
please link to: http://rumorfix.com/full-entry/2011/6/15/vienna-girardi-freaked-out-jake-pavelkas-on-bachelor-pad.html
Who knew Snoop Dogg is an incurable romantic.
The self-confessed pot head celebrated his wedding anniversary with his wife, Shante Broadus, Tuesday night and gave RumorFix.com an exclusive interview. "Fourteen years — that's how long we've been married," the rapper told us. "But we've really been together for 20 years."
After presenting his lady with a brand spankin' new $50,000 2011 Toyota Sequoia Platinum, he told RumorFix.com, "It [marriage] is the best thing that I got in my life. My back bone, you dig?"
Yes, Snoop, we dig.
The romantic evening started with a steak dinner at Mastro's in Beverly Hills and ended with a dozen red and white roses. The producer/actor says he was conned into buying the roses. He says he was walking down the street and "This flower person was cold. First he said 'This is for the lady," Then when I walked around the back he says, 'That's $100.'"
We won't tell Shante!