Scientific Probe of Afterlife "Evidence" Launches on Kickstarter
Industry: Entertainment
Unique crowdfunding campaign seeks funds to conduct, document cutting-edge scientific study of alleged evidence of life after death.
Los Angeles, CA (PRUnderground) January 28th, 2015
An effort to mount one of the most ambitious scientific explorations of evidence of life after death launches today on the crowdfunding website Kickstarter.com.  Called "The Afterlife Files," the project will recruit mainstream scientists to run tightly controlled experiments to test the existence of the "Electronic Voice Phenomena," or "EVP."  Some researchers in the EVP field have obtained voices and images which they claim to be communications from deceased individuals who live on in another dimension.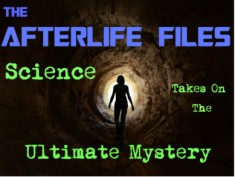 "EVP has a particular fascination for researchers," said producer Todd Moster, "because it could be concrete evidence that our personalities survive physical death.  But despite decades of compelling examples produced by investigators and hundreds of ghost hunting societies, we have yet to see EVP break into public awareness, aside from the occasional cable documentary or news report."
The reason for the plateau in EVP research, according to Moster, is a lack of funding and involvement by independent, high-profile scientists.  "Up to now, EVP research has been the province of dedicated amateurs, along with researchers who've lacked the funding to mount a truly impregnable study of the phenomenon.  So you have thousands of intriguing claims that never seem to find traction with society as a whole."
His answer is The Afterlife Files, a combined scientific expedition and 13-episode TV series designed to get to the bottom of EVP claims.  Featuring a collaboration of experienced EVP researchers, die-hard skeptics, mainstream scientists and families seeking contact with departed loved ones, the series will document a landmark effort to solve one of the greatest mysteries of all time.
"Woody Allen once wrote that he's not afraid of death — he just doesn't want to be there when it happens.  That perfectly describes the way I, and I think most people, feel.  Even religious people will admit to a fear and uncertainty about death.  It's one of the universal realities that binds and intrigues us."
Moster knows the task isn't easy.  "We're looking to raise $500,000 during the few short weeks of the campaign.  That seems like a crazy amount of money, but it's the absolute minimum we need to do this right."
Can he do it?  "The odds are long," Moster admits, noting that under Kickstarter rules a project that doesn't meet its funding goal during its campaign period fails, with no money changing hands.  "The only way for The Afterlife Files to succeed is to go viral," he says, "but if we reach just a small percentage of the millions of people fascinated by the paranormal, we'll get over the finish line."
"Everyone loves a mystery," concludes Moster, "and The Afterlife Files will set out to crack one of the biggest secrets of all time.  There's no way to know how the experiments will turn out, but given the diverse personalities and high stakes involved, it's bound to be gripping television."
The Kickstarter page for The Afterlife Files, which launched on January 28, 2015 can be found at https://www.kickstarter.com/projects/afterlifefiles/the-afterlife-files.
About Vitruvian Productions, Inc.
Vitruvian Productions, Inc. is the producer of The Afterlife Files, a a combined scientific expedition and TV docu-series launched on Kickstarter on January 28, 2015. Its goal is to raise funds for an ambitious scientific exploration of whether the human personality lives on after death.