SEO National's Damon Burton to Speak at Prosper Show
Industry: SEO
Prosper Show confirms SEO National's President, Damon Burton, to speak at 2016 conference for Amazon Sellers.
Salt Lake City, Utah (PRUnderground) November 27th, 2015
The Rocky Mountains of Salt Lake City, Utah will play host to 2016's Prosper Show, an Amazon marketplace exhibition. Top Amazon Sellers and solution providers will reveal trade secrets and best sellers' tactics to help online business owners sell more by working smarter, not harder. Prosper Show has several hundred e-commerce merchants and online marketing consultants scheduled to speak, teach, and network. Among the latest confirmed internet marketing speakers is search engine optimization consultant, Damon Burton, President of SEO National.
Damon Burton brings over a decade of experience in web development and search engine optimization. As the President of SEO National, Damon's experience in search engine optimization is consistently in demand. SEO National oversees the enterprise level search engine optimization of several high-profile entities, including INC5000 companies. Mr. Burton comments on 2016's Prosper Show engagement. "I've had such a wonderful experience with SEO and online marketing over the last 16 years. It has become a passion of mine. And when you're passionate about something you want to share that passion. Speaking at Prosper Show is such a great opportunity for me to give back to the industry that I love."
PROSPER is a team organized to assist Professional Retailers Online and Solution Providers with Education and Research materials. The Leadership Team behind PROSPER is a group of successful e-commerce business owners and consultants. They are the driving force behind the Prosper Show. Prosper Show is scheduled for February 8-9, 2016. Opening day will provide an overview of the state of online marketing and various industries that are encompassed by it. Breakout sessions are then scheduled throughout the course of Prosper Show's two-day schedule.
Amazon Seller reputations
product pricing
managing Amazon feedback
Amazon Seller reputation management
retail arbitrage
outsourcing
optimizing Amazon products
search engine optimization
taxes
private label selling, and more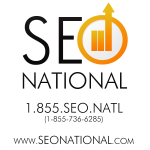 To learn more about Prosper Show's internet business convention focused around Amazon Seller seminars, visit www.ProsperShow.com or call 801-845-0554. To learn more about Damon Burton's SEO National or to schedule a search engine optimization consultation, visit www.SEOnational.com or call 1-855-SEO-NATL (1-855-736-6285).
About SEO National
SEO National is a search engine optimization company north of Salt Lake City, Utah. This SEO company offers affordable, effective search engine optimization with a refreshingly personal approach to communicating with their online marketing customers.