SEO Software Helps Small Businesses Rank On Google Easy & Affordable
Industry: SEO
Search engine optimization software SEO PowerSuite is becoming the most cost effective way for small business to rank on Page #1 of Google.
New York, NY (PRUnderground) April 26th, 2012
As we all know, Search Engine Optimization aka SEO can be very expensive for the small business owner. Lately we have seen more and more SEO software pop up that enables the small business owner attempt to do their own SEO. The problem with this software is that in many situations, it is very complex and does not work well at all. However, every once in awhile along comes an SEO toll that is affordable and really is easy to use. Imagine saving thousands of dollars by optimizing your own website.
The software we are talking about is SEO PowerSuite. This software is a hidden gem for anyone who want to do their own SEO.  If you want to quickly, easily, and inexpensively drive your website to Google's first page and attract thousands of unique visitors, keep reading!!
Here are just a few features that make SEO PowerSuite stand out:
1. Complete. You won't ever need to go searching for any other tools — right now you can get your hands on the most complete set of effective SEO software that is absolutely enough to achieve and maintain top traffic–generating positions in any search engine.
2. Easy and fast. No special preps, no knowledge, no Internet skills. This SEO software personally assists and guides you in quickly doing every search engine optimization task necessary to get the #1 position in any search engine.
3. Reliable. SEO PowerSuite tools have been battle–tested by SEO experts and website owners. We're happy to have Fortune 500 companies on the list of our users, as well as thousands of smaller businesses. All confirmed this software  helped them get top 10 Google rankings.
4. Frequently updated. Not a single change in search engines goes unnoticed. We keep software up to date with Google and company and constantly add new powers to help you get top rankings within shortest time.
5. Works on Windows, Mac OS X and Linux. This SEO software is cross-platform and runs equally well for users with Win PCs or Macintosh computers and even for Linux fans
SEO PowerSuite is made up of four software tools in one pack that, when put together, guarantee you leadership in search engines and new streams of visitors. You can check out all SEO tools one by one, and decide to invest in just one or two out of four for the good start. Or get the full SEO PowerSuite and take advantage of the complete website promotion software set.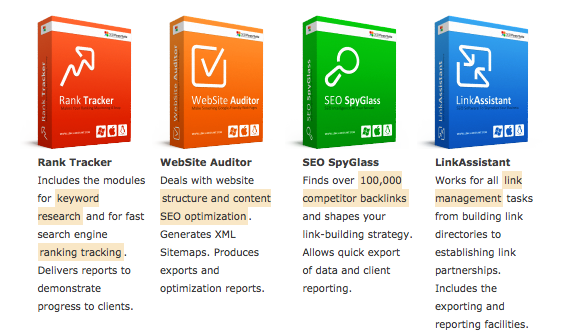 Today SEO consultants are working for about 5 days and charge up to $4,500 for this kind of instructions. Now you can not only save that money, but you can tell your friends about it and help them save money. With this tough economy we all need to start cutting corners while at the same time stay with the current marketing trends to make our website as visible as possible in the most cost effective manner.