Speedhut Gauges Release New and Improved Electronic Programmable Speedometer
Industry: Automotive
Car gauge manufacturer and retailer, Speedhut, announces new features to their programmable speedometers.
Salt Lake City, Utah (PRUnderground) March 23rd, 2015
Speedhut, a pioneer in the car gauge and performance metrics industry, has made improvements and added features to their Electronic Programmable Speedometer. The latest speedometer enhancements include easier calibration and new service alerts to help drivers remember regular maintenance for their vehicle.
Founder of Speedhut, Aaron Westberg, comments on the new features of their programmable, electronics speedometers. "We pride our growth on keeping a good line of communication with our customers. Each year we review the most in-demand car gauge feature requests and strategize when and how we'll implement to most requested features of our customers. The latest enhancements to our programmable speedometers is the culmination of great feedback from our customers."
Speedometer features:
Compatible with all factory speed senders or transmissions (requires 0.5 – 200 volt signal)
Programmable from 1000 – 200,000 pulses per mile
Turn Signals and High Beam Indicator (Optional)
Odometer and Resettable Trip
Peak Recall of max speed
Easy to use LCD Menu
Easy to read backlit LCD (Glows white at night for easy viewing).
Service Alerts: Change Oil, Rotate Tires, and General Service
Cruise Control Output
Life-time warranty on gauge electronics
In addition to extensive features, there are several noteworthy technical advantages to Speedhut's programmable speedometers.
Internal microprocessor controls the pointer (needle) movement
Digital high torque stepper motor ensures accurate pointer movement in racing conditions
Solid Aluminum Bezel
Threaded case for Spin Lock Ring mounting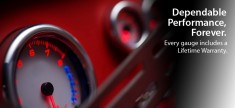 Mr. Westberg remarks. "What good would our programmable speedometers be be unless they can mount and integrate into a customer's vehicle easily to be used?" He continues. "In addition to wanting to provide our customers with the best car gauges we also want them to be as widely compatible as possible. That's why we also provide wiring harnesses, power cables, inverters, and more."
Speedhut's programmable speedometers include the following hardware.
Spin Lock Ring
Wiring Harness (8 Feet)
Power Cable (Gauge set of 3 or more includes the Multi-Connection Power Distribution Cable)
Single Gauge EL Lighting Inverter (Gauge set of 3 or 4 includes the Multi-gauge Inverter, gauge set of 5 or more includes the Multi-gauge Dimmer-Inverter)
Speedhut works hard to efficiently and effectively meet their customer's unique requirements for customizable instrumentation products. They understand that their customers want the very best for their application. To read more about the new and improved electronic, programmable speedometers visit https://www.speedhut.com/about-newspeedo.html.
About Speedhut
Speedhut is a manufacturing company that produces and retails custom car gauges, shift lights, and custom gauge face glow gauges. Their inventory includes car gauge speedometers, tachometers, boost gauges and more for Honda Civics to the Ford GT and other cars.