Stainless steel casters wheels manufacturer of china
Industry: Manufacturing
stainless steel casters made of 304 stainless steel plate and stainless steel double bead plate structure. It has strong rust and corrosion resistance (suitable for humid environment) and 100% washable.
China (PRUnderground) March 1st, 2019
Stainless steel casters wheels have wide applicability and are widely used in many industries, including food processing industry, food and beverage industry, medical industry, industrial industry, etc., because compare with other casters advantages of stainless steel casters are Obviously
The stainless steel casters wheels polished bracket surface maintains long-term brightness. Suitable for food processing and catering and medical industries
The bracket strength is enhanced after use stainless steel, the bracket is not easy to be deformed, the driving is more stable, and compare with common material the load capacity is obviously improved.
Stainless steel material enhances the gloss of the product and makes the product more beautiful.
Due to higher cost of material raw material,and relatively small amount demand on market
, resulting in fewer factories produce stainless casters, that's cause stainless steel price price much higher than regular casters
We are now focusing on the production of various stainless steel casters, we can provide high quality stainless steel casters at a lower average market price
According to the wheel material is divided into:
stainless steel nylon casters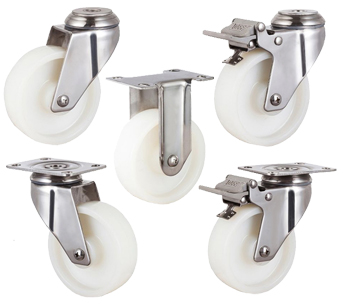 stainless steel PU casters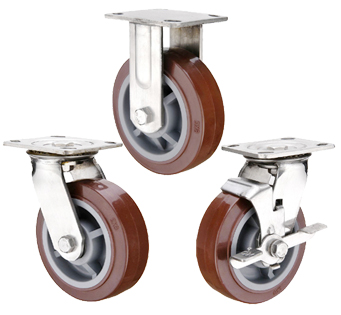 stainless steel TPR casters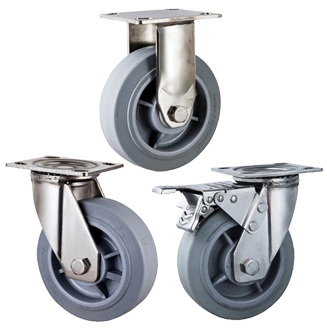 Full stainless steel wheel casters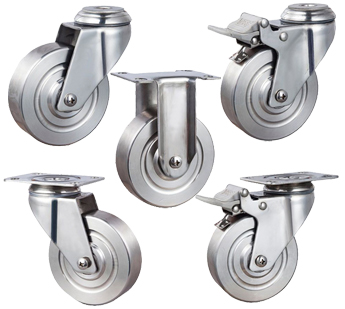 According to load capacity it's divided into light, medium and heavy duty stainless steel casters.
www.casterwheelsco.com
sales@casterwheelsco.com
whatsapp: +0086-137 3645 4395
About xinchen caster wheels company
Xinchen caster wheels specialized in manufacture caster wheels,Our main business scope involved
Medical caster:used as medical bed caster,hospital furniture caster,hospital trolley caster,central locking caster wheels
Heavy duty caster: Rubber caster wheels,Iron cast wheels,widely used as industrial caster wheels,Plant / factory trolley caster wheel
Trolley caster: widely used on super market trolley caster wheel,and home furniture cart casters
Shock absorbing casters:Popular used as electric equipment caster,and high precision devices,which need avoid shocking.
Low profile casters; Mostly used as machine casters,and industrial trolley.
For many years development we have develop more than 2000 series caster wheels,And we are proud of our quality.
www.casterwheelsco.com