The World's Leading Presentation Software Focusky Announces the Launch of Version 2.8.12
Industry: Mobile Apps
Focusky Software Co. Ltd, the world's leading provider of digital presentation software, today announced the launch of new version of its popular presentation software.
Hong Kong, China (PRUnderground) December 3rd, 2015
This new improved version (v2.8.12) of its presentation software possesses advanced animation effects of inserted objects, optimized 3D background editor, and several minor improvements on all fronts. With these, creation of stunning animated videos and presentations is about to reach unbelievable peak heights, and with no stress involved.
Renowned as being a PowerPoint option for creating online presentations, the new version 2.8.12 is highly proficient and user-friendly when compared to the previous version(s.) It comes with an awesome build-in animation themes and tools with dynamic characters, and its boundless zoom and pan effect are easily notable.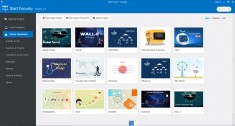 Apart from creating business presentations and video, with v2.8.12, businesses could promote their services or products online as well. "It is an especially priceless tool for users who want to leverage the Focusky platform to drive brand awareness and increase brand visibility" said Jason Chen, president of Focusky Software Co. Ltd.
Based on Flash, this unique presentation software (v2.8.12) was further redesigned to reinvent the art of presentation, thereby bringing a brand new thought on digital presentation.
Loads of positive reviews have been recorded as touching the version 2.8.12 Focusky presentation software. One of the users testified thus; "I am deeply impressed by Focusky presentation maker's innovative ideas on slideshow presentation." "Focusky has changed my thought on presentation.  It seems to be a great option for those teachers who use concept mapping or digital story telling in the classes. It would be a good teaching tool for those visual learners who struggle to grasp the "big picture" of a topic, or how it relates to specific points you are instructing them on" another user said.
For more information about Focusky's Presentation Software, visit – https://focusky.com/
About Focusky
Focusky is a premium presentation creating platform to create quality animations, presentations and videos. It provides the killer business presentation tool for the users to deliver the awesome visual experience. Both Windows and Mac users can take good advantage of it to make the animated video for presentation.