TrueCar Labor Day Sale 2017 Deals (Bryan Honda)
Industry: Automotive
Bryan Honda TrueCar Certified Dealer offering additional savings Labor Day weekend only
FAYETTEVILLE, NORTH CAROLINA (PRUnderground) September 1st, 2017
Bryan Honda has announced that they will be offering a special TrueCar Labor Day Sale. During the sale, customers will be able to take advantage of limited time offers on new and used vehicles.
All new and used vehicles at Bryan Honda will be clearly marked for transparency and a streamlined customer experience. The sale and all extra TrueCar discounts will end at the end of Labor Day weekend, on September 4, 2017.
To receive the extra TrueCar discount on new vehicles, customers can go to www.TrueCarLaborDaySale.com.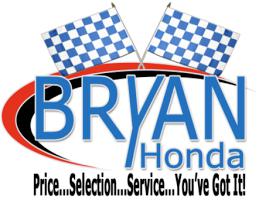 TrueCar is committed to helping car shoppers find accurate, transparent prices on vehicles. The TrueCar team has partnered with Disney, WalMart, Geico, American Express, Boeing, and other notable companies to further their mission. TrueCar also has partnerships with dealerships across the country. People looking for a trusted autobuying program can log in at TrueCar and access upfront pricing from Certified Dealers.
Bryan Honda is one of the Certified Dealers in the TrueCar network, and the dealership's team is excited to highlight their partnership with TrueCar with special discounts over Labor Day weekend.
People looking for a new car Labor Day sale or a used car Labor Day sale will be able to take advantage of limited time discounts that will be clearly marked on each vehicle. Bryan Honda's staff will be available to assist with questions, test drives, and anything prospective customers need.
Bryan Honda, North Carolina's longest standing Honda dealership, has become well-known across the country for the team's dedication to delivering exceptional customer experiences. Over the past few years, the dealership has shattered sales records by catering to the needs and wants of customers by way of exciting promotions and a streamlined customer experience.
According to the team at Bryan Honda, a portion of each vehicle purchase during the TrueCar Labor Day Sale will be donated to the Hurricane Harvey Relief Fund to aid those affected by the immense disaster caused over the past several days in parts of Texas and Louisiana.
Bryan Honda invites anyone interested in a new or used vehicle to explore their dealership's inventory over the Labor Day 2017 weekend to learn about their vehicle options while enjoying the opportunity to take advantage of exclusive discounts.
More information can be found at https://truecarlabordaysale.com.
About Bryan Honda
Bryan Honda is located in Fayetteville, North Carolina, and proudly serves the surrounding area with a strong commitment to customer service in every aspect of the car buying process. Bryan Honda offers a wide selection of vehicles and a knowledgeable team who strive to deliver a seamless, hassle-free experience to everyone who walks onto the lot.