U.S. Musician Jeremy Katz Builds Global YouTube Audience with Music, Reviews, and a Bissel of Shtick
Industry: Music
Multi-instrumentalist musician Jeremy Katz is gaining YouTube fans around the world with his humorous productions of hit songs and in-depth reviews of musical instruments
New York, NY (PRUnderground) November 3rd, 2015
Jeremy Katz, a 22 year old multi-instrumentalist session musician and freelance video producer based in Teaneck, NJ, is gaining YouTube fans around the world with his humorous productions of classic and current hit songs as well as his in-depth reviews of musical instruments.
"Any current or classic song that gets stuck in my head is in the running to be chosen as my next cover video," says Katz, who plays all of the instruments in his videos, sings all of the vocal parts, and handles the production/camera/lighting/editing duties.  "For my equipment videos, I review what I've purchased.  If it's a good instrument, I'll say so.  If buying it was a mistake, or if the instrument was misrepresented in its ads, I'll share that as well so that my viewers can make an informed decision about whether or not to buy it."
Katz is a 2010 graduate of The Frisch School in Paramus and a 2014 graduate of Yeshiva University (BA in Music).  As a child, he was inspired to pick up the guitar by his father, who was fan of Stevie Ray Vaughan and Jimi Hendrix.  He began taking guitar lessons from professional musician Mike "Lone Wolf" Augenti when he was 11 year old, and in his later teens, he formed a blues band called III Blue J's along with his dad, his younger brother Jonny (bass) and his older brother Jordan (drums).  The quartet played a range of blues cover tunes and performed in venues across northern New Jersey and in New York City.  They also produced and release four CDs, one of which reached the top 20 of the independent release chart on CDBaby.com.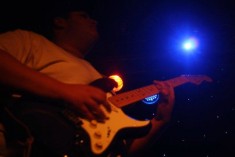 "A few years after I got serious about the guitar, I also starting picking up the piano," says Katz, who has created cover videos of hits by such artists as The Four Seasons, AC/DC, Queen, Bruno Mars, Andy Grammer, Meghan Trainor, The Weeknd, Jason Derulo, Maroon 5, Rachel Platten, The Beatles, The Village People, and most recently, Drake.  "I taught myself how to play, and when I came across other instruments that looked intriguing, I taught myself how to play those as well."
Katz's musical proficiency – along with his charisma, sense of humor, and salesmanship – are evident in his gear review videos, which have featured such instruments as a Rogue B-30 banjo, a Stratocaster Custom Classic electric guitar, a Taylor 214CE acoustic guitar, a Casio WK-3800 keyboard, a Lanikai Lu Series Model LU-21 ukulele, and a pan flute.  His review of a xaphoon, an instrument that's looks like a combination of a clarinet and a recorder, has generated web traffic and sales for the U.S. distributor, Xaphoon USA.
"The charm and power of Jeremy's videos is because they come from the heart, not from marketers in some slick ad agency," says Gary Friedman, owner of Xaphoon USA. "Musical instrument manufacturers can definitely benefit from having their products featured in Jeremy's videos because there's no better advertising than fan-created content.  He's a very talented guy who knows how to connect with his viewers and effectively sell what he's presenting."
An additional area that Katz is exploring is creating custom songs and videos for corporate clients.  Earlier this year, he was hired by Shell Oil Company to produce a safety initiative video for a team building event.  Shell employees wrote the lyrics to a song parody of Meghan Trainor's #1 pop hit "All About That Bass" called "All About That Goal".  Using these lyrics, Katz performed and recorded the song, then gave the employees instructions on how to create a lip sync video featuring all the project's participants.  He then edited his audio with the employees' lip sync video, and the resulting segment was presented at a company business gathering.
"Jeremy's creativity and talent, combined with his ability to effectively communicate and deliver a music video that satisfied our unique business objective, was outstanding," says Shell's David Soza, who hired Katz for the project.  "The team and our executives were very impressed with 'All About That Goal', which has inspired and motivated employees to become more engaged at work.  The entire project was executed flawlessly."
Katz's cover song videos have recently been picked up for airing in the U.S., Caribbean, and South America on the Gone Viral TV cable channel.  His videos have also been tapped for inclusion on Cover Nation's YouTube stream, which features "top covers from the best YouTube singers".  He plans to continue releasing one cover song video on his YouTube channel every two weeks, as well as frequent gear review videos.  In addition, he's seeking to introduce his custom song and video production services to planners of celebration events – including weddings, anniversaries, and bar/bat mitzvahs.
Katz believes that his explorations in secular music are consistent with his modern Orthodox faith.
"The importance of music in Judaism, as referenced by our rabbis in numerous sources, dates back to when the Jews left Egypt," says Katz.  "Music was performed by the Levites in the temple service and it's well known that King David was a great lyre player.  In fact, his music is often credited as being the inspiration for the beautiful words that he wrote in the psalms.  It's the sense of joy created by music that's inherently a Jewish concept to be used in the service of God.
"Perhaps the most prevalent discussions of the importance of joy were by King Solomon, who wrote often in 'Proverbs' how joy is a huge part of life, and that uplifting one's spirit to serve God is essential and should be constant.  It doesn't really matter if you're religious or not.  If any type of music, whether it's secular or religious, helps you to experience joy, and if my music can help someone to achieve this, then I'm happy."
About Jeremy Katz Music
Jeremy Katz is a musician, composer, singer, and songwriter. He produces music and videos for his Jeremy Katz Music YouTube channel as well as for corporate clients.
Katz plays a number of instruments, including electric guitar, drums, piano, bass, mandolin, saxophone, electronic keyboards, acoustic guitar, ukulele, xaphoon, banjo, harmonica, bouzouki and violin. He records, arranges, mixes, films, and edits his music productions and videos in his home studio.
Prior to obtaining his B.A. in music from Yeshiva University, Jeremy was the lead guitar player and co-producer of the III Blue J's – a New York/New Jersey area rock and blues band. He arranged and co-produced four albums for the band, which was profiled in the Bergen Record, one of New Jersey's largest newspapers.