With Fall Here and Winter Around the Corner, GutterSupply.com Offers Discounts on Snow Guards
Industry: Home Care
Snow guards are vital to the health of a roof and the structure of a home in areas with large amounts of wintry precipitation.
Lake Bluff, Illinois (PRUnderground) November 6th, 2017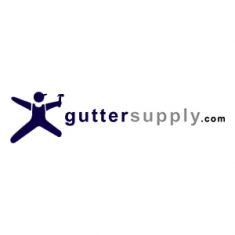 Homeowners across the country are feeling the effects of falling leaves, which can wreak havoc on gutter systems. However, once the leaves stop falling, homeowners are not in the clear. Come winter, a brand-new challenge arises, especially in the Chicagoland area – large amounts of snow. Fortunately, GutterSupply.com is now offering a limited-time 10% discount on all their snow guard products.
Dangers of Snow
The snow is a beautiful site, but without some preparation, it can cause problems for your home and your safety. Snow guards are designed to keep melting snow from sliding right off your roof in sheets, crashing to the ground, and endangering those below. Snow guards also keep drifts out of your gutter system, which is important for a couple reasons. First, heavy snow settled over your gutters puts pressure on them and the fasteners, which can lead to your gutters sagging or pulling away from your home. Next, even if the snow doesn't damage your gutters, it can melt and refreeze, causing dams inside your gutter system and blocking the flow of liquid. Either way, the results can be quite devastating.
Snow Guard Discount
Right now, when you visit GutterSupply.com, you can take a 10% discount off the price of a variety of snow guards designed to protect both you and your home. Snow brakes and guards in different shapes, sizes, materials, and finishes help to ensure that you get the protection you need, and that it is aesthetically pleasing at the same time. You can also find all the accessories you need for installing the snow guards on the very same page, making things simple and convenient.
About Gutter Supply