Amerimold 2016: The Event for Mold Manufacturing Registration Now Open
Industry: Books
Early registration includes discounts for exhibit hall, technical education and business networking at the annual event for mold manufacturing and injection molding
Detroit, MI (PRUnderground) February 16th, 2016
Amerimold: The Event for Manufacturing today announced that registration is open for this 2016 event taking place June 15-16 at Novi, MI's Suburban Collection Showplace.
The annual Amerimold connects more than 2,750 of the top owners, executives and engineers involved in the plastic injection mold manufacturing industry. The event includes an exhibit hall, technical conference and production sourcing events.
Pre-registration extends through May 6th and includes:
·         Complimentary Amerimold exhibit hall access
·         Discounted technical conference registration
·         Free show floor education sessions
·         Onsite business development opportunities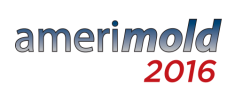 "I am very excited to announce the opening of registration for our biennial return to Novi, MI. We have seen increased support each year including a record turnout in 2014." said David Necessary, Event Director. "Now is an exciting and active time for mold manufacturing and there is no better venue to display that activity and excitement than the die/mold, injection molding and automotive-rich Great Lakes manufacturing community."
Amerimold visitors will see the latest machine tools, materials, tooling, software, services and components for mold manufacturing. In addition, Amerimold will co-locate with leading materials and light weighting conference, Thermoplastic Composites Conference for Automotive (TCC Auto).
On TCC Auto, Necessary continued, "We were fortunate to co-locate with the inaugural TCC Auto in 2014. Since, the interest in advanced materials, like thermoplastics, for lightweighting, cost reduction and new approaches to automotive production has only increased. As such, we are excited about the mutual benefits afforded to our respective audiences by way of this co-location."
Event registration and details are available at www.amerimoldexpo.com. 
For more information, contact Anne Von Moll, Registration manager at: 513-527-8800 or info@amerimoldexpo.com
About Amerimold
Amerimold is North America's premier event for mold manufacturing. Presented by Gardner Business Media, in partnership with MoldMaking Technology, Plastics Technology and Modern Machine Shop, amerimold connects global and domestic technology leaders involved in all aspects of mold manufacturing.
www.amerimoldexpo.com