Amerimold 2017 Registration Opens
Industry: Books
The Event for Mold Manufacturing Returns to Rosemont
Cincinnati, OH (PRUnderground) February 9th, 2017
Amerimold: The Event for Manufacturing today announced that registration is open for this 2017 event taking place June 14-15 at Rosemont, Il's Donald E. Stephens Convention Center.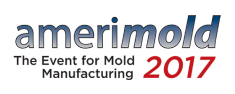 Amerimold connects more than 3,000 of the top owners, executives and engineers involved in the plastic injection mold manufacturing industry. The event includes an exhibit hall, education and production sourcing events.
Pre-registration extends through May 1 and includes:
·         Complimentary Amerimold exhibit hall access
·         Free show floor education sessions
·         Onsite business development opportunities
Amerimold visitors will see the latest machine tools, materials, tooling, software, services and components for mold manufacturing. New this year, the event is adding educational programming to the show floor. The Amerimold Tech Talks will cover all aspects of the injection molding life cycle and offer insights and best practices for attendees to incorporate in their own shops. The exhibit hall will also feature full equipment demonstrations for the first time, from companies like Wittmann Battenfeld and Takumi.
"We are very excited about all the additions to Amerimold this year," says Allison Miller, Event Director. "By focusing on bringing everything to the event floor, we are able to give our attendees opportunities to learn, network and develop business all in one place."
Amerimold 2017 will also feature the first ever pre-show workshop, Foundations of Additive Manufacturing for Toolmaking and Injection Molding. Presented by UL, the workshop will provide a strong foundation on how, or if, to implement additive technology.
Event registration and details are available at www.amerimoldexpo.com.
For more information, contact Anne Von Moll, Registration manager at: 513-527-8800 or info@amerimoldexpo.com
About Amerimold
Amerimold is North America's premier event for mold manufacturing. Presented by Gardner Business Media, in partnership with MoldMaking Technology, Plastics Technology and Modern Machine Shop, amerimold connects global and domestic technology leaders involved in all aspects of mold manufacturing.
www.amerimoldexpo.com