Apple iPad 2 WiFi Free Drawing to be Held by Mobile Food Pioneer
Industry: Electronics
Stitches 'n Dishes, a pioneer in the mobile food services industry announced its Project Stitchlink drawing for an Apple iPad 2 WiFi Tablet.
San Francisco (PRUnderground) November 8th, 2011
A free service, Stitches 'n Dishes is California's only network of vendors, venues and their fans, providing news, schedules, reviews, high-quality photography, video and media coverage on its website.
Christopher Ford, Co-Founder of Stitches 'n Dishes announced the launch of the website's latest prize drawing – an Apple iPad 2 WiFi tablet computer on the Stitches 'n Dishes blog and Facebook page on November 5, 2011.
The website is fully dedicated to the mobile foods industry, focusing on food trucks, food stands, caterers, and bakers. Stitches 'n Dishes provides original articles, reviews, video and photography on its blog site, Facebook fan page, Twitter feed and in its weekly newsletter, "The Dish!". The website also includes information about California county fair dates and events at each of 78 venues, with photos, schedules and Twitter feeds, as well.
"Stitches 'n Dishes is creating a buzz around mobile foods and entertainment venues that gives people the opportunity to find events at any of the California fair grounds and their favorite food vendors on one website. And now they're giving away an iPad 2 to make it even easier," said Nick Nicora, Vice President of Business Development, Western Region at Ovations Food Services, a national food and beverages service, providing alcohol, catering and concessions at California county fair grounds and entertainment venues across the country.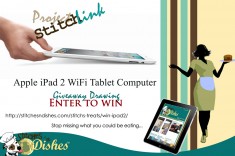 Entries for the Apple iPad 2 WiFi in the Project Stitchlink drawing are being accepted through December 31, 2011. To be eligible for entry, participants must be at least 18 years of age, and California residents. "We're giving away a free iPad 2 WiFi as a way of saying 'thank you' to our loyal readers, and to spread the word about what we're doing. Our website appeals to food lovers and anyone curious about the mobile food phenomenon. If you're curious about food trucks, and their growing popularity, you'll love our site," said Andrew Nicora, Co-founder of Stitches 'n Dishes.
Entry requirements for the no-purchase-necessary drawing are posted on the Stitches 'n Dishes blog (https://stitchesndishes.com/stitchs-treats/win-ipad2/). A random drawing will be held within seven days following the closing of the contest. The winner will be announced in the Stitches 'n Dishes newsletter, "The Dish!"
"We understand that our readers have embraced today's mobile technology and that it plays an integral part in how they make decisions regarding their mobile dining experience, and they share those decisions with their friends and families" said Ford. The incredibly thin, light design of the iPad 2 gives our readers the flexibility and freedom they value on a very powerful platform that includes two cameras for FaceTime and HD video recording, a dual-core A5 chip, 10-hour battery life, over 200 new software features in iOS 5 and iCloud all with WiFi capability. We couldn't be happier to give one to a loyal reader."
About Stitches 'n Dishes:
Stitches 'n Dishes, the creation of Christopher Ford and Andrew Nicora, and inspired by "Stitch", an American Staff. Terrier mix / Bichon Frise, provides marketing, advertising and PR services to the mobile foods industry and it provides consumers with a single source for original articles, reviews, food photography, California fairs and events, discounts, contests and giveaways.
Stitches 'n Dishes is California's first provider of a platform that stitches a link between food lovers, entertainment venues and mobile food operators, and the first fully dedicated marketing, advertising and development resource available to food vendors in California.
Last month, Ford and Nicora gave away an iPod Touch 4th Generation handheld device, and gift certificates at various mobile restaurants. The two plan to continue offering prizes each month to their "VIP" readers – subscribers of The Dish!
"All of our contests, drawings, and giveaways are open to newsletter subscribers only. We consider our subscribers to be our VIP's who deserve to be recognized. This is our way of showing our appreciation for their continued support," Said Ford.
Participants should visit the Stitches 'n Dishes website for entry details.
Contact:
Christopher Ford, Co-Founder
Stitches 'n Dishes
chris@stitchesndishes.com
916-612-9954
Rodney Washington
Stitches 'n Dishes
rodney@stitchesndishes.com
858-413-7526