Clothes and Fashion Voucher Codes, Discount Codes will be popular this winter says VoucherMole.co.uk
The UK's leading voucher codes website, sees trend in clothes and fashion voucher codes once the cold weather begins
United Kingdom (PRUnderground) October 4th, 2011
The recent hot spell of weather seemed to take everyone by surprise and was another example of how the UK's seasons are becoming all the more erratic.
Given that there is now a tendency to have warmer autumns/early-winters and colder, wetter summers, should fashions follow suit? That's the question posed by VoucherMole.co.uk, the UK's leading voucher codes website, and the bearer of many great deals from clothes and fashion retailers.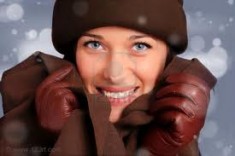 "Over the past few years it's become apparent that there is no longer any logic to when the warm weather stops and the cold weather begins, and vice versa," said a spokesperson for Voucher Mole. "This irregularity can have an impact on many industries, not least in fashion where whole ranges are geared towards certain types of weather and released in the run-up to what is expected to happen.
"But quite often the warm weather never comes and when it does, all the winter clothes are on the rails. It will be interesting to see, if this trend continues, whether big fashion retailers such as Debenhams, Marks and Spencer, Oasis and Dorothy Perkins adjust their collections accordingly."
The Guardian's fashion blog recently reported that while people are scrambling around to find appropriate clothing for the Indian summer the UK was enjoying, "The shops, meanwhile, are committed to their autumn/winter collections, with racks of scarves and heat-tech long johns on full display."
"Once it became apparent that we were going to get a period of warm weather, people were frantically digging out all their summer dresses and shorts that they'd packed away quite some time ago," added Voucher Mole. "In fact, it was noticeable that many of our customers were making use of the clothes and fashion discount codes we'd supplied for them to capture any end-of-line items that would come to their rescue in the mini-heat wave."
And, out of interest, what will people be wearing this autumn/winter? All the signs are the shops will be filled with tartan, tunics and trousers, forties glamour, chokers and fetish gear!
About Voucher Mole:
Voucher Mole is a leading retail promotion company which features voucher codes, deals and offers from a wide variety of online retailers. Our team tracks down the best deals and passes them on to online consumers keen to save money on big brands. Voucher Mole is part of Wilsons Online Retail Ltd. For information visit www.vouchermole.co.uk