GREEN CREATIVE launches ENERGY STAR Certified Commercial Downlight LED retrofit solutions
Industry: LED Lights
GREEN CREATIVE, the commercial grade LED lighting manufacturer proudly announces the release of its 9.5'', 8'' and 6'' commercial downlight retrofit kits.
South San Francisco, California (PRUnderground) August 18th, 2015
Part of GREEN CREATIVE's new TITANIUM LED SERIES 4.0, the 9.5'' 48W CDL , 8" 32W CDL and 6" 22W CDL are energy efficient retrofit solutions for existing CFL installations.  These downlights are compatible with most architectural and commercial housing and install easily in just minutes.  Each commercial downlight retrofit kit comes complete with a carabiner clip for safe and easy wiring and two types of retaining clips to fit a variety of housing dimensions.
"These LED CDL fixtures are a practical solution for replacing compact fluorescents, resulting in half the energy usage and big savings on maintenance costs," says GREEN CREATIVE's Product Manager, Taylor Schaberg. "The clean look of these products and excellent light distribution allows you to switch out unsightly CFLs without sacrificing on light output."
Each 120-277V downlight requires bypassing the existing ballast and uses an external LED driver with pre-wired conduit and quick connector.  These downlights are dimmable on 0-10V circuits.
All commercial downlights are ENERGY STAR® certified, last 40,000 hours and feature exceptional efficacy upwards of 77 lumens per watt.  The 9.5'', 8'' and 6'' CDLs are available in 3000K, 3500K and 4000K CCT.
Detailed information and data sheet for the 9.5" 48W CDL are available here.
Detailed information and data sheet for the 8" 32W CDL are available here.
Detailed information and data sheet for the 6" 22W CDL are available here.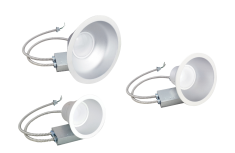 These products are available through GREEN CREATIVE distributors and are ready to ship from the company's west coast and east coast distribution centers. For more information on where to purchase these products near you or how to become a distributor, please contact GREEN CREATIVE at: sales@greencreative.com or (866) 774-5433.
About GREEN CREATIVE
GREEN CREATIVE is a major solid-state lighting development and manufacturing company headquartered in central Florida. The company specializes in providing high-quality lamps, downlights, and track and fixture lighting solutions for the commercial, residential, and industrial markets. GREEN CREATIVE is fully integrated with strong R&D capabilities to consistently offer the latest technology. For more information on GREEN CREATIVE please visit www.greencreative.com. For all of the latest updates follow GREEN CREATIVE on Facebook, Twitter and LinkedIn or YouTube.