GREEN CREATIVE releases new Generation 4 A19 GU24 LED lamps
Industry: LED Lights
GREEN CREATIVE, the commercial grade LED lighting manufacturer proudly announces the launch of its new LED A19 9.5W GU24 and A19 11W HIGH CRI GU24 lamps.
South San Francisco, CA (PRUnderground) March 13th, 2015
Part of GREEN CREATIVE's new TITANIUM LED SERIES 4.0, the A19 9.5W GU24 and the A19 11W HIGH CRI GU24 lamps meet the new ENERGY STAR® V1.1 requirements for standard A-lamps with an omnidirectional 300° beam angle and evenly distributed light intensity. Featuring a traditional A19 form factor, these dimmable lamps offer uniform light distribution while emitting 65% more lumens than what is required by ENERGY STAR in the 135° to 180° degree zone.
Operating at 84 LPW in a Warm White CCT, the A19 9.5W's efficacy is more than 25% higher than the Tier 1 LED A19 GU24 60W replacement industry average. This industry leading efficiency also exceeds ENERGY STAR requirements by upwards of 50%. The natural A-lamp design makes this lamp a perfect retrofit choice for CFL lighting applications such as lamps with shades, down lighting and uplighting.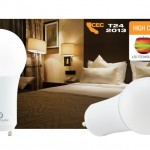 In addition to the A19 9.5W GU24 lamp, the A19 11W HIGH CRI lamp features a typical CRI 92, R9 70 and R13 95, providing crisp and vibrant colors across the whole spectrum. Its exceptional R9-R14 values provide redder reds, natural looking skin tones and whiter whites. This lamp also meets the California Quality Spec set forth by the California Energy Commission (CEC), which demands color temperatures fall within a 4-step Macadam ellipse to ensure minimal color deviation across lamps.
Both A19 GU24s turn on instantly, are fully dimmable and last 25,000 hours. The A19 9.5W GU24 is available in 2700K, 3000K and 4000K CCT and the A19 11W GU24 is available in 2700K CCT. ENERGY STAR certification is expected for these products by the end of March.
Detailed information and data sheet for the A19 9.5W GU24 can be found here and the A19 11W HIGH CRI GU24 data sheet can be found here.
These products are available through GREEN CREATIVE distributors and are ready to ship from the company's west coast and east coast distribution centers. For more information on where to purchase these products near you or how to become a distributor, please contact GREEN CREATIVE at: sales@greencreative.com or (866) 774-5433
About GREEN CREATIVE
GREEN CREATIVE is a major solid-state lighting development and manufacturing company based in the San Francisco Bay area. The company specializes in providing high quality lamp, downlight, track and fixture lighting solutions for the commercial & residential market. GREEN CREATIVE is fully integrated with strong R&D capabilities to constantly offer the latest technology available. For more information on GREEN CREATIVE please visit www.greencreative.com. For all of the latest updates follow GREEN CREATIVE on Facebook, Twitter and LinkedIn or YouTube.