Journey Of A Lifetime Inspires The Creation Of A Fun Beachwear Brand
Industry: Clothing
Bondi Buddha is not just a "kool" name; its line of adventure-inspired tees and caps has the makings of a blockbuster brand.
Naples, Florida (PRUnderground) July 28th, 2011
Founder Rob Thomas was on a mission to create a life he loved. After reducing his worldly possessions to a backpack, he took off to Asia on a yearlong adventure. There he discovered the beautiful culture of Zen and became best mates with a larger-than-life "Jolly Aussie" from Bondi Beach – the surfing Mecca of Australia. "It was his constant pearls of wisdom," says Rob that inspired the name Bondi Buddha.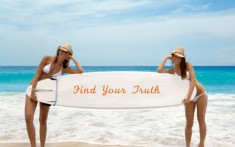 After coming back to the US, Rob moved to Florida and set about creating a lifestyle brand that embodied a sense of fun and the spirit adventure. "I am most happy when I'm creating or travelling" says Rob who now works with artists around the globe to develop exciting designs for the brand.
Since launching at the 2010 Surf Expo in Orlando, Bondi Buddha is fast developing a cult following across a broad demographic. A killer logo and wide range of unique and creative designs has enticed customers from ages 15 to 50+ and as far away as the UK, according to the company.
Living a life you love by doing something you are truly passionate about is an ethos that Rob Thomas subscribes to. Recently he added a final touch to the Bondi Buddha logo with the tag line "Find Your Truth." Sharing the possibility of adventure and fun with the world is something he aspires to.
About Bondi Buddha™:
Bondi Buddha™ is the result of a life-long passion for adventure and a desire to connect with mankind. During 2009, I sold everything, reduced my life to a backpack and took off on an amazing journey through parts of Asia. It was there I was introduced to the beautiful culture of Zen and became best mates with a larger-than-life jolly Aussie from Bondi Beach–this inspired the name Bondi Buddha™.