Revealing the Exciting Flipbook Software from Fliphtml5.com
Industry: Publishing
The HTML5 flipbook software allows online publishers to share their interesting content online easier.
Hong Kong, China (PRUnderground) October 16th, 2015
FlipHTML5 offers online publishing service that allows publishers to expand their audiences to mobile devices and tablets. Their flipbook software can transform any documents into attractive publications which are sharable and readable online on computers, tablets and mobile devices.
How does it work?
FlipHTML5 flipbook software is easy to use. It converts documents such as PDF, PowerPoint files as well as Microsoft Word documents. On top of that, publishers can customize the look, insert their logos and change the background colors. It works on Windows and Mac OS as well as all web browsers.
FlipHTML5 features:
·         PDF to flipbook
It converts PDF file to be more attractive and presents it as a real book. It is easy and there is no complication to convert PDF file to digital flipbook. with just few minutes, publishers can create amazing flipping animation effects.
·         Design it in one's own style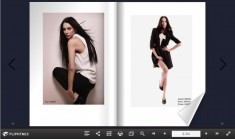 FlipHTML5 flipbook software can help publishers to customize their e-books. It allows them to design their flipbooks in the way they want. It allows them to change book logo, title and book size, change image and add toolbar button.  The difference between FlipHTML5 and other products is that publishers do not need any former knowledge about design and ability to code and still they will be able to customize every aspect and detail of their flipbook.
·         Ecommerce options
Publisher can make their shoppable experience completely different than anything they ever seen so far. They can turn their catalogs and magazines into a completely new shopping world for their customers. This will boost their sales and make their pages unique.
·         Hosting Platform
FlipHTML5 flipbook software has unlimited hosting cloud platform where publishers can host anything they want without worrying about the servers or up time. Reach of the platform is both global and local.
What else can FlipHTML5 can offer?
Without rambling too much, publishers can check everything that this flipbook software can offer on the website page here http://fliphtml5.com/
The fact that over 50,000 publishers trust them with their customers, FlipHTML5 is based in Hong Kong with broad range of solutions for publishers to create stunning digital content. The name that lasts for several years now never failed any customer or publisher will continue to create and fulfill made promises. With the platform that is highly user friendly and cost effective they are truly flipbook software's world leaders.
About FlipHTML5
FlipHTML5 Software Co. Ltd. is a world leading provider of digital publishing software. For many years, They have focused on the research and development of outstanding range of e-publishing software for users around the world. Furthermore, they offer customized solutions for publishers in different industries.