Say Goodbye to the Hassle of Worn Out Heel Tips – GoGo Heel™ Introduces the Instant Heel Tip
Industry: Clothing
GoGo Heel has released Quick Tips™ to combat the most inconvenient part of wearing high heels: the worn out heel tip. Quick Tips fixes shoes in under a minute.
San Diego, CA (PRUnderground) May 10th, 2012
New footwear company, GoGo Heel, has introduced the first instant solution to the most inconvenient part of wearing high heel shoes: the worn out heel tip.  Heel tip replacement or repair is a hassle most women tend to ignore, leaving behind permanently damaged shoes and a loud clicking sound when walking.   Quick Tips™ fixes worn heel tips in under a minute without any tools.  This long-needed solution benefits businesswomen, business travelers, and anyone who regularly wears high heel shoes.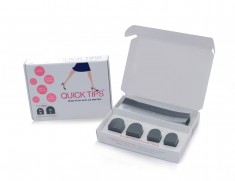 Quick Tips is fast and easy to use.  It consists of two parts: a protective cap and a no-residue, self-fusing band.   The cap fits over the worn heel, and the band attaches the cap to the heel.  No tools are required, making it the perfect "on-the-go" solution.
"It's a simple, yet versatile product.  You can use it as a temporary solution until you find time to go to a shoe repair or wear it long term, like a new heel tip," says Grace Hwang, Founder of GoGo Heel.  "The caps are reusable, so you can swap them between your shoes."
Quick Tips is patent pending and made in the USA.  Each pack retails for $14.99 and includes 4 reusable caps that fix 2 pairs of shoes.
For more information on Quick Tips™, visit their website at www.gogoheel.com.
About GoGo Heel, LLC
GoGo Heel was founded by Grace Hwang, a traveling healthcare consultant who created Quick Tips for women that regularly wear high heel shoes. GoGo Heel is dedicated to helping women find convenient solutions to inconvenient problems.