White Nights, Black Paradise, First African-American Novel to Explore Jonestown Massacre
Industry: Books
No one "drank the Kool-Aid" -- Sikivu Hutchinson's White Nights, Black Paradise is first African American novel to explore Jonestown massacre on tragedy's anniversary
Los Angeles, CA (PRUnderground) November 12th, 2015
On November 18, 1978, over 900 members of the People's Temple, a Black multiracial church with Pentecostal origins, died in a Guyana jungle settlement named after the church's white founder, the Reverend Jim Jones. On that fateful night, a U.S. Congressman investigating the church was murdered, and Jonestown members either drank or were forcibly injected with a deadly combination of cyanide and Flavor-Aid.
Seventy five percent of those who died in the Jonestown massacre— the largest murder-suicide in American history—were African American.  The majority of these victims were African American women. Yet, most of the literary portrayals of Peoples Temple and Jonestown have been by and about white people.
Decades after the horrendous deaths of hundreds of men, women and children in a community that was supposed to be a racial "paradise"; Jonestown continues to elicit two questions— "Why"? And "Could it happen again"?
Sikivu Hutchinson's new novel, White Nights, Black Paradise, seeks to answer these questions.  In an era of increasing religious division in, and religious influence on, American culture, White Nights, Black Paradise centers black lives in a gripping story of triumph and tragedy that rocked the globe.  By framing Peoples Temple and Jonestown within an African American perspective, critics say this "refreshing" "lyrical narrative" does "something which no published novel has yet managed."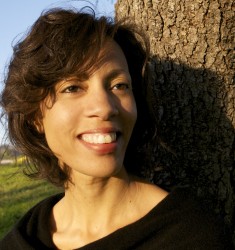 Author Sikivu Hutchinson has examined the intersections of race, gender and religion, in her other books, Moral Combat: Black Atheists, Gender Politics and the Value Wars and Godless Americana: Race and Religious Rebels. Her 2013 Religion Dispatches article "Why Did So Many Black Women Die?" explores black women's powerful financial and social role in the Peoples Temple movement, and the failed, revolutionary promise of Jonestown's mixed-race utopia for its true believers.