Results from new PRuMax distribution
Industry: Site Updates
(PRUnderground) January 24th, 2019
As many of you know, we added the PRuMax distribution officially as of January 1st.  It offers the most pickup of our distributions and is priced at $309 per distribution (up to 500 words). What we have typically seen early on here is pickup of all press releases on PRNewswire.com and Yahoo Finance, most on MarketWatch.com, as well as pickup of most relevant press releases on TheStreet.com and SeekingAlpha.com.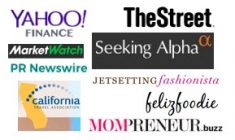 Depending on your niche, we are seeing some interesting niche pickups such as MomPreneur.Buzz, Millenium Magazine, FelizFoodie, BioFlorida, and  California Travel Association, and even several in the cannabis space. This is all in addition to the normal pickup from our core distribution (DigitalJournal.com, 80 news and TV websites, Facebook/Twitter, etc). You get 2 separate pickup reports with this distribution. Contact us if you have a specific question about a vertical.
If these types of media pickups would be good for your business, consider a PRuMax distribution for your next press release. It can really help build credibility for your business to send client/prospects/investors/partners a link to your latest press release announcement in one of the top online publications mentioned above. There are no contracts, so you can try one without being locked into a longer term agreement. It is $309 per distribution for up to 500 words (word count included heading and About Us boilerplate).
About